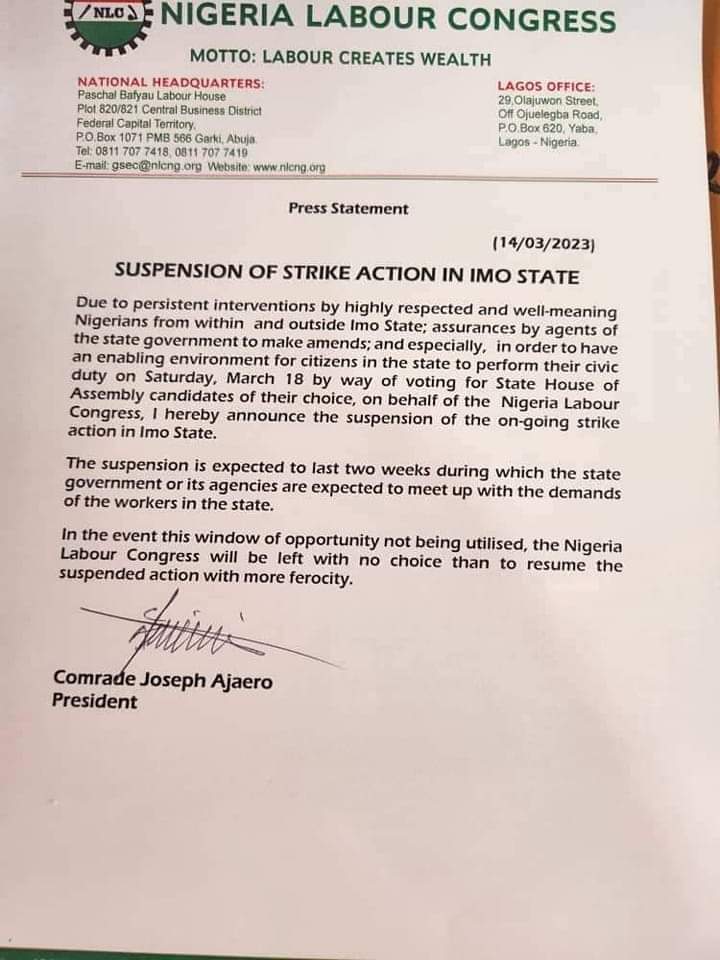 Nigeria Labour Congress (NLC) has suspended its ongoing strike in Imo State.
NLC President, Mr Joseph Ajaero, announced the suspension of the industrial action in a statement issued on Tuesday in Abuja.
The News Agency of Nigeria (NAN) reports that the state chapter of NLC had, on March 9, embarked on the strike in Imo State.
Ajaero attributed the suspension of the strike for two weeks to what he called persistent interventions by highly-respected and well-meaning Nigerians from within and outside the state as well as assurances by agents of the state government to make amends.
He also said that the suspension of the industrial action was necessitated by the need to create an enabling environment for citizens to perform their civic duties during the governorship and house of assembly elections on Saturday.
"On behalf of NLC, I hereby announce the suspension of the on-going strike in Imo State.
"The suspension is expected to last two weeks during which the state government or its agencies are expected to meet up with the demands of the workers in the state,'' he said.
The NLC president further stated that, in the event that the window of opportunity was not utilised by the state government, the congress would be left with no choice than to resume the suspended strike with more ferocity. (NAN)