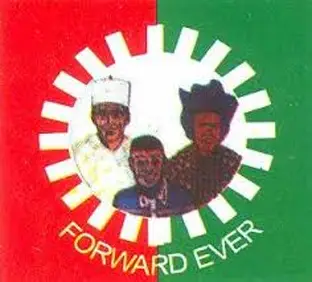 The milestone of the Labour Party in the just-concluded general elections is no doubt unprecedented considering that the party came from obscurity to gain popularity.
This has been described by many as a revolutionary movement that captured the heart of the youths and many Nigerians yearning for a change from the present government.
The party, which had existed for over 20 years as a pro-workers political organisation, drastically made inroads into mainstream politics within eight months, on the fame and acceptance of the party's flag bearer, Peter Obi, by an overwhelming youth majority known as 'Obidients'.
However, Obi, the trader, and former Anambra State governor changing the game and leading the new third force in Nigeria's political sphere, lost the presidential election after having won 12 states, including Lagos and other former strongholds of the two previously dominant parties with a total of 6,101,533 votes.
Bola Tinubu of the ruling All Progressive Congress, APC, won the contest, having scored 8,794,726 votes ahead of Obi; and Atiku Abubakar of the Peoples Democratic Party, PDP, who came second, scored 6,984,520 votes.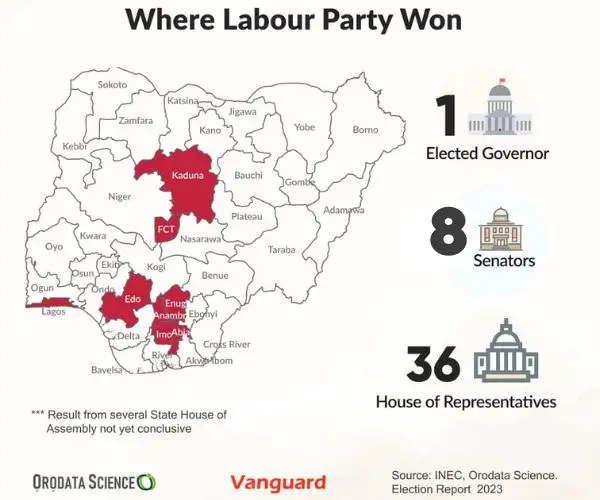 Legislative seats
The party has one governor, Alex Otti of Abia State. But the numbers are in the legislative arm.
In a historic precedent, LP has won eight senatorial seats and 34 in the House of Representatives in the just-concluded federal legislative elections, making it the third most popular party in the 10th National Assembly.
This was revealed at a meeting the Chairman of the Independent National Electoral Commission (INEC), Prof. Mahmood Yakubu, held with Resident Electoral Commissioners (RECs) in Abuja.
The chairman of the commission said winners had also been declared for 423 national legislative seats, while supplementary elections would be held in 46 constituencies. Labour can also get some.
In the senatorial election, Yakubu explained that 98 out of 109 seats "have been declared. Seven political parties have won senatorial seats while in the House of Representatives, 325 out of 360 seats have been won by eight political parties."
Currently, in terms of party representation for the 10th National Assembly, APC won 57 Senate seats; PDP, 29; LP, eight; Social Democratic Party (SDP) two; New Nigeria Peoples Party (NNPP), two; while Young Progressives Party (YPP) and All Progressives Grand Alliance (APGA) got one each.
In the case of the lower chamber, Yakubu said the APC had 162 seats; PDP, 102; LP, 34; NNPP, 18; APGA, four; ADC, two; SDP, two; YPP, one.
Vanguard