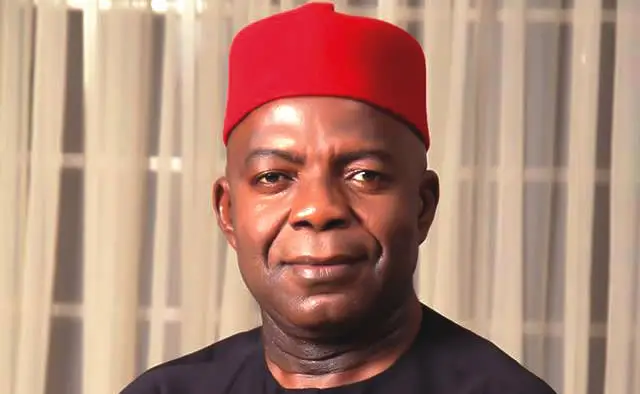 … Meets perm secs, reacts to Ikpeazu's absence at his swearing-in
The newly-inaugurated Governor of Abia State, Dr Alex Otti, has said that the new Government House built by his predecessor, Dr Okezie Ikpeazu, was inaugurated without being completed.
Otti who stated this while fielding questions from newsmen in Umuahia after meeting with Permanent Secretaries at the Okpara Auditorium Umuahia, said he would assess the quality of work done at the building "to determine what is needed to complete it".
Ikpeazu had two days before his exit from power, inaugurated the New Government House located at Ogurube Layout.
The inauguration was attended by Governors Ifeanyi Ugwuanyi of Enugu State; and Seyi Makinde of Oyo State.
Reacting to an inquiry on where he would be operating from , Otti said the Old Government House was a rented apartment, explaining that he would rather put the new Government House in proper shape than continue in a rented apartment.
" I do know that the Old Government House was on a rented property. So, if we have one that we own, we shouldn't be paying rent.
"But I'm also aware that the New Government House that was commissioned the other day, was commissioned without it being completed.
" So, when we assess it, we will know what is required to complete it. We will complete it and begin to operate from there. But for now, we will operate from anywhere."
On his take on Ikpeazu's absence at his inauguration Monday at the Umuahia Township Stadium, Otti said he did not know the reason for his predecessor's action but added it was of no moment.
" I wouldn't know why he was not there. But whether or not he was there, the important thing is that I have been sworn in.
" We don't need the predecessor to swear in the successor. It would have been nice if he came but since he didn't come we are not going to make any issue out of that", Otti said.
On the outcome of his meeting with the Permanent Secretaries, Otti said it was aimed at understanding their challenges and acquainting them with his vision.
He said it was a successful meeting, and expressed optimism that he would have a harmonious relationship with them.
"I just wanted to understand how they have been doing the job, and know if there are areas of challenges. It was also a meeting to communicate my vision clearly to them. It was a successful meeting of brothers and sisters".
Meanwhile, prayer warriors were sighted at the Old Government House moving from building to building,anointing the premises in what could be described as spiritual cleansing