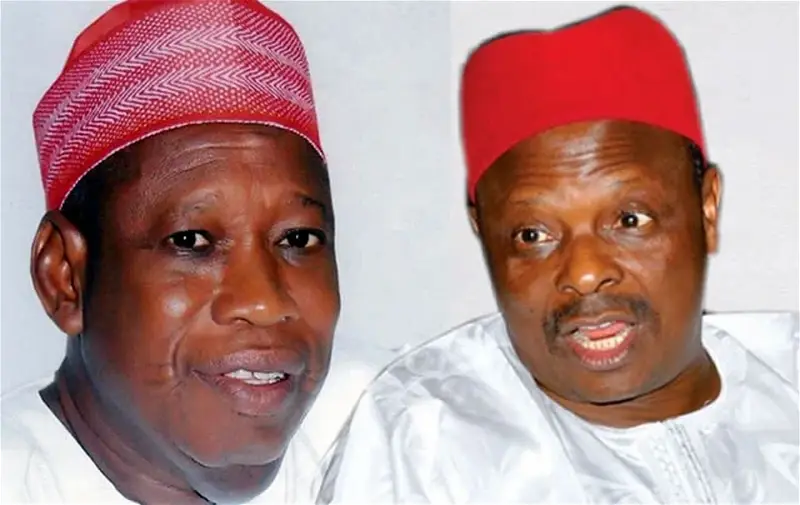 Infuriated by the ongoing demolition by the Governor of Kano State, Abba Kabir Yusuf, the immediate past governor of the state, Dr Umar Ganduje, on Friday, said he could have slapped Engr. Rabiu Musa Kwankwaso, if he saw him in the Presidential Villa, Abuja.
Ganduje was the deputy governor to Kwankwaso, the Presidential candidate of the New Nigeria People's Party, NNPP, in the February 25 election and the two have become like cat and dog in recent years.
Briefing State House correspondents after meeting behind closed doors with President Bola Tinubu, the visibly enraged Ganduje accused Kwankwaso of being behind the demolition of property in the state.
Fuming while speaking with state house journalists, Ganduje said if he had met Kwankwaso at the Villa, he could have slapped him.
The former governor said he met with President Tinubu to brief him on the security situation in Kano State following the demolition exercise embarked upon by the administration of Governor Yusuf.
Fielding questions on whether he met Kwankwaso who is equally around in the Villa with the president, he said, "I know he is in the building but we have not met. Probably if we met, maybe I could have slapped him."
Ganduje said the demolition exercise was done without carrying out any investigation or giving due notice in line with the provisions of the Land Use Act.
The former governor said he spoke at length on the issue while reporting the matter to the president and had petitioned the Inspector General of Police, Usman Alkali Baba with video evidence of the looting and vandalisation that trailed the demolition.
Ganduje said he had briefed the president adequately on the demolition exercise that even affected the supporters of Kwankwaso whom he accused of ordering the action.
He said the governor who he described as a "stooge" of Kwankwaso was no longer happy because of the condemnation that greeted the move.
Asked to give figures to properties lost to the demolition exercise, he said some human rights organizations were working on the level of damage.
He, however, said one of the developers who was affected had sued the government demanding over N10 billion.
He said the state governor had said the demolition exercise was part of the fulfillment of his campaign promise to "restore" the urban development masterplan of the city.
He had also insisted that the exercise was not a vendetta against the past administration of Abdullahi Umar Ganduje and that many more demolitions would follow.