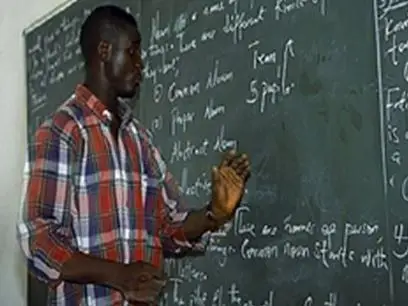 Against the backdrop of hardship occasioned by the removal of subsidy on petrol, the leadership of College of Education Academic Staff Union, COEASU, has directed its members to go to work only twice a week.
COEASU also said if nothing was done urgently to arrest the hardship faced by its members, the devastating effect of the situation on ground could lead to a prolonged academic calendar where a semester of 16 weeks would extend to 32 weeks or more, while teaching practice of six months could become 12 months, adding that this would have negative effects on parents and students.
The union in a statement signed by the National President, Dr. Smart Olugbeko, yesterday, said 'members could no longer afford to go to work everyday as a result of the hike in the price of petrol.
It called on the government to yield to its demand of 200 per cent salary increase, adding that the decision for its members to go to work twice a week was reached at its extraordinary meeting on Tuesday, July 18.
The statement read: "The National leadership of our great union in its extraordinary meeting held on Tuesday, 18th July 2023 had agreed to direct its members to go to work two days weekly until Federal Government yields to its demand of 200 per cent increase in salary amidst the difficulty of members to get to work as a result of hike in the price of petrol.
"The implementation of removal of fuel subsidy by the Federal Government two months ago raised the price of a litre of petrol by 250%. This worsened the inflationary rate on the cost of transportation, food and other essential commodities and impoverished the Nigerian people.
"Workers, including staff of Colleges of Education, kept faith with government and chose to endure the untold hardship thinking it would be only for a while as Government promised to roll out palliative measures including significant increase in salaries.
"Alas! While our capabilities to sustain hope were already exhausted, the price of petrol rose further to N650 per litre. Now, the leadership of the union has been inundated by members' complaints that they could no longer go to work as a result of hike in the price of petrol and resultant high cost of transportation.
"Against this backdrop, it has become inevitable for the union to direct members to go to work only two days weekly while an emergency NEC meeting shall be convened to ratify this decision and decide on the specific days of the week members are to go to work.
"The present salary of staff of colleges of education was approved in the year 2010 – 13 years ago! This means we have been on same salary since 2010 while petrol price rose intermittently from N65/N70 in 2010 to N650 in 2023 (tenfold increase).
"Our salary structure which is subject to renegotiation at 3-year interval has remained static for 13 years, skipping four due renegotiations. "