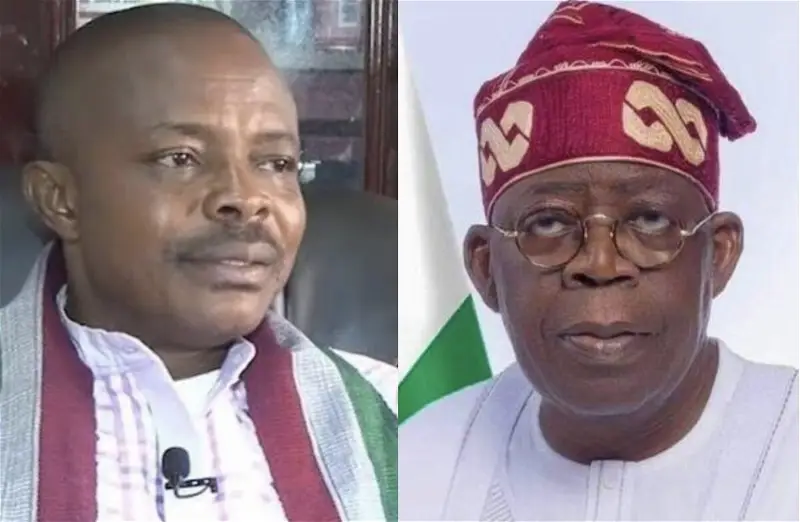 The federal government appealed to the Nigeria Labour Congress, NLC, yesterday to shelve its planned strike scheduled to start next Wednesday, saying it was doing everything possible to address issues raised by the labour movement, on the removal of fuel subsidy.
The appeal came against the backdrop of the Wednesday strike notice served by the labour movement, which gave the federal government a 7-day ultimatum to address what it described as anti-people policies or face industrial action.
FG begs for more time to address Labour grievances
Speaking after the Steering Committee meeting on Palliatives, the leader of the government team and Special Adviser to the President on Energy, Olu Verheijen, who was flanked by the Permanent Secretary, Ministry of Labour and Employment, Kachollom Daju, pleaded with labour to give the federal government more time to look into its grievances, rather than embark on industrial action.
She explained that the government was yet to roll out palliatives because it didn't want to make mistakes, adding that the meeting with organised labour was productive and would continue tomorrow..
Asked about the agenda of the meeting, she said: "It involves labour and some parts of government, it's a steering committee. it's a wide group of people, a wide group of stakeholders representing the interests of Nigerians. And we've agreed to continue to make progress.
"It was a very productive meeting, the focus was really around how we fast-track a lot of the interventions that will bring relief, particularly around CNG, mass transportation, cleaner energy, transportation, and reduce the impact of the cost of transportation, the increased cost of transportation. So we've made good progress. And we're going to continue to do so and so that we can start rolling out these opportunities and these relief measures as quickly as possible."
Asked if Labour will not embark on strike as threatened, she said: "The labour unions will speak to that. But we are making progress; we're trying to address the issues that will prevent a strike. So that is essentially why I feel we made very good progress today and will continue to do so."
Reminded that Nigerians are suffering and are not expected to wait for too long for palliatives to come, she said: "President Bola Tinubu is working assiduously to address all of these issues. And as quickly as he can, he's very empathetic; he is concerned about it, as you've seen all of us working round the clock here to make sure we are able to announce these measures as quickly as possible. It's a whole package of issues that we're rolling out as quickly as possible."
However, the NLC said yesterday it had directed all its affiliates and state councils to immediately begin mobilization of workers and other Nigerians, including civil society allies, for a long lasting strike and mass protests should the government fail to meet its demands.
NLC in a communiqué at the end of its Central Working Committee, CWC, meeting held Tuesday, July 25, at Labour House, Abuja, also demanded the immediate inauguration of the Presidential Steering Committee as agreed in the earlier consequential dialogues.
The communiqué signed by President and General Secretary of NLC, Joe Ajaero and Emma Ugboaja, respectively, said the CWC-in-session demanded "the immediate reversal of all anti-poor policies of the federal government including the recent hike in PMS price, increase in public school fees, the release of the eight months withheld salary of university lecturers and workers and increase in VAT."
The communiqué noted that NLC equally resolved "to begin the building across the nation of a coalition of all Nigerians where all will be leaders and all will be followers, calls on all civil society organisations and Nigerians wherever they may be to begin mobilization to take action on their own to save our nation and to lead and organize mass protest rallies across the nation to demonstrate outrage against the inhuman actions and policies of the government."
It also resolved "to give the federal government a seven-day ultimatum within which to meet all our demands and to embark on a nationwide action beginning Wednesday, August 2, 2023, to compel the government to reverse its anti-poor and anti-workers policies."
The communiqué informed that NLC "direct all affiliates and state councils to begin immediate mobilization and closely work with associations, individuals and other entities including the ones already on the streets to ensure that government listens to the people."
According to the communiqué, CWC-in-Session exhaustively deliberated on the crippling economic situation facing Nigerians and its attendant consequences of mass suffering, poverty and angst pervading Nigerian workers and people, which are clear results of the insensitive policies and actions of the present administration.
NLC recalled that on May 29, 2023, the President gave Nigerians an inaugural shocking gift by increasing the price of Premium Motor Spirit, PMS, from N185 to N500.
This action was strongly condemned by various organs of Congress because of the massive suffering it imposed on the lives of Nigerians.
It lamented that "as if that was not enough, the federal government, through the instrumentality of the Nigerian National Petroleum Company Limited, NNPCL, effected a further hike in the price of PMS to N617 per litre without having addressed the dire consequences which the earlier hike had imposed on Nigerians.
''Other anti-poor policies have since been unleashed on Nigerians which have left workers and masses reeling and deeply impoverished."
CWC-in-Session contended that "the federal government has shown enormous disdain and contempt for Nigerian people and workers, having acted and continued to act without regards to the welfare and cries of the citizenry.
''The government seems to have declared a war of attrition on Nigerian workers and masses without any care, leaving them to the throes of hopelessness and helplessness.
''The Federal Government has refused to put in place safeguards to protect Nigerians from the harsh economic situation that its policies have inflicted on the people.
"The federal government has frustrated and abandoned its own committee which was a product of social dialogue between the government and workers organisations in the country.
''While the committee has not met, the government embarked on unilateral actions and programmes. Since Mr. President's 'subsidy is gone forever' speech at inauguration day, the peace of mind of Nigerians has gone, increasing despair of unimaginable dimensions.
"The federal government has continued to treat Nigerians as slaves and a conquered people which it treats with impunity without any concern on the consequences.
''The government has continued in an unholy mission of robbing the poor to pay the rich in Nigeria as typified by its continued frustration of the activation of the agreed alternatives to Premium Motor Spirit, PMS, and new hike in prices of PMS to N617 per litre.
''It has continued to promote the gang up of the ruling elite against Nigerian people and workers.
"It is the responsibility of men and women of conscience, propelled by patriotic zeal, to take necessary action to protect democracy and our beloved nation since it is clear that the federal government is not interested in discussions, having exhausted half of the agreed eight weeks without activating the Presidential Steering Committee."
NECA reacts
Reacting to the strike threat, Nigeria Employers Consultative Association, NECA, called for immediate government action to avert it, saying Nigerians were, indeed, suffering from the effects of the removal of subsidy on petrol.
Director-General of NECA, Wale-Smatt Oyerinde, said: "It is true that the removal of fuel subsidy has heaped intolerable levels of hardship on Nigerian workers and households, with businesses also feeling the heat.
''We have witnessed an astronomical increase in the cost of living, with no relief in sight. Rising inflation has further exacerbated our woes.
"Certainly, the agitation of organized labour, under the aegis of Nigeria Labour Congress, NLC, is expected. We, indeed, express our empathy to all Nigerians who have been affected by the current policy thrusts of government, which are yet to yield the expected results.
''Indeed, there are reports of business closures and many others forced to reduce capacity utilization. While we understand the genuine concerns of Labour, strike action at a time the economy and businesses are barely struggling is not in the best interests of all and sundry. It will, also not bring about any positive resolution.
"Conversely, we expect the government to, as a matter of urgency, be more transparent, communicate more and resume talks with Labour in order to build consensus. We also expect that definitive conclusions should be reached and clear roadmaps communicated to stakeholders.
"NECA will continue to champion social dialogue as the principal means of resolving industrial dispute, while also urging stakeholders, including government, to demonstrate responsibility and good faith in engagements with stakeholders, given our fragile economic circumstances."