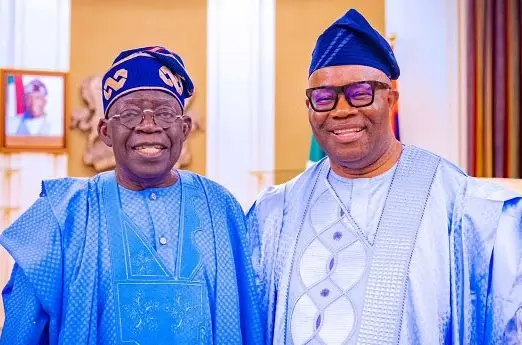 President Bola Tinubu and the Senate President Godswill Akpabio, are currently in a meeting at the State House, Abuja.
Akpabio arrived the Villa at 2.25p.m., shortly after the Senate adjourned for a closed-door session, occasioned by the rowdy session over the screening of Festus Keyamo (SAN), one of the President's ministerial nominees.
Keyamo was ushered in by the Senate Sergeant at arms for his screening and perhaps confirmation.
After presenting his curriculum vitae, a member of the Senate, Darlington Nwokocha, raised a Point of Order, where he quoted a section of the Constitution that has to do with oversight function of the Red Chamber
He informed the Senate that Keyamo as a Minister of State for Labour and Employment refused to honour invitation from the Senate to explain the execution of the 1,000 jobs for each of the 774 local government areas of the country.
Consequently, he moved a motion that the screening of Keyamo should be stepped down. His motion was supported by the former Senate Minority Leader, Enyinnaya Abaribe.
As the issue degenerated into a rowdy session, the Majority Leader of the Senate, Opeyemi Bamidele moved a motion for the Senate to go into closed session.
However, few minutes after the closed session, the President of the Senate, Godswill Akpabio, rushed to the State House.
Although the agenda of the meeting was not made public, it was gathered that the meeting was not unconnected with the screening of Keyamo and the stiff opposition by senators.
The lawmakers want his screening stepped down pending when he explained why he ignored invitation to him in the ninth Senate to explain how the government social works was handled.