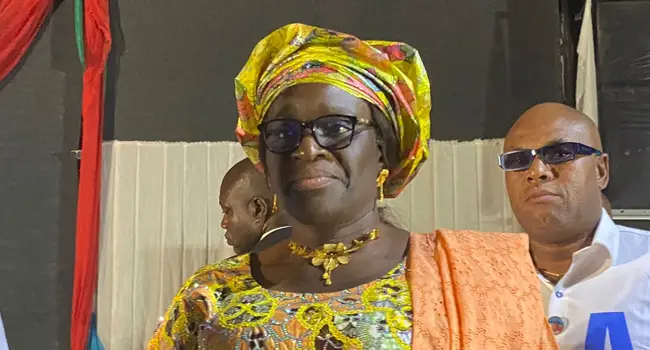 The Imo State Governor, His Excellency, Distinguished Senator Hope Uzodimma has today officially unveiled his 2023 Gubernatorial running mate, who is Lady Chinyere Ihuoma Ekomaru.
In his address, Governor Uzodimma expressed his confidence in his running mate, Lady Chinyere Ekomaru, and stated that her appointment was based on merit and her track record of service to the state. He highlighted her passion for community development and her commitment to the ideals of the All Progressive Congress (APC).
Governor Hope Uzodimma in a detailed address, took Ndi Imo through a journey of how his Shared Prosperity administration has delivered dividends of democracy in the past 3 years to Ndi Imo with numerous achievements as proofs for his reelection.
Speaking on the achievements of his administration, Governor Uzodimma stated that his government prioritized infrastructure development, youth empowerment, education, healthcare, and security. He mentioned the completion of over 100 major road projects, the construction of new hospitals and healthcare facilities, the empowerment of more than 5,000 youths through skills acquisition programs, and the revamping of the education sector with the reconstruction and recovery of schools with numerous Federal Government approved projects like the Orashi dredging to the Atlantic.
Governor Uzodimma also emphasized the efforts made in ensuring security and peace in the state, stating that his administration has been able to curb criminal activities and restore the confidence of investors in Imo State.
He also warned Politicians sponsoring unrest in the State yet promising safety, to desist from their atrocious acts and embrace peace.
The Governor assured the people of Imo State that with their support, his administration will continue to work hard to deliver more dividends of democracy, improve the living standards of the people, and create a conducive environment for businesses to thrive.
In conclusion, Governor Uzodimma urged all Imo Stakeholders to rally behind his administration and support his reelection bid, stating that together they can build a better Imo State for all.
In her response, the running mate of Governor Uzodimma, Lady Chinyere Ihuoma Ekomaru thanked the Governor, the members of the All Progressive Congress (APC), and the entire Imo people for the opportunity to exercise her 40 years of experience in politics and service to humanity.
The official unveiling which was held at Landmark Event Center, Owerri, Imo State was attended by Imo Stakeholders from different walks of life including politicians from across party lines, the academic, players in commerce and industry, elders and traditional rulers, and market men, women and members of the All Progressive Congress (APC).