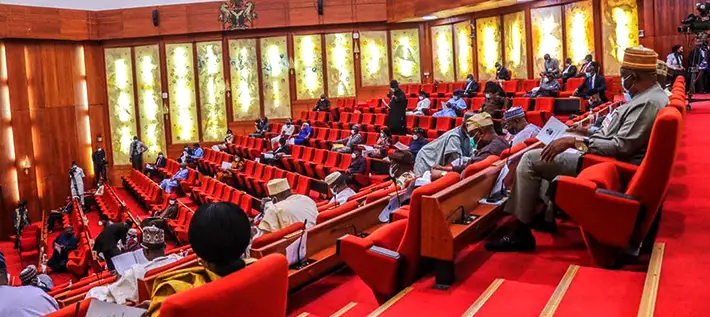 OUTRAGE, yesterday, greeted the justification of jumbo pay for National Assembly members and political office holders by the Revenue Mobilisation Allocation and Fiscal Commission, RMAFC, which said the lawmakers do not earn outrageous salaries.
RMAFC Chairman, Muhammed Shehu, told NAN in Abuja that it was untrue that public officeholders were getting jumbo salaries, saying: "I want to disabuse the minds of Nigerians. It is not true that people are getting jumbo salaries."
Last June, the RMAFC boss had said the salaries of politicians, judicial and public office holders would be increased by 114 per cent.
He said the salary of President Bola Tinubu was less than N1.5 million, while ministers earn less than N1 million.
"I know of an average CBN worker that is not even a director, who earns more than a minister. People in NNPC, NCC, Ports Authority earn huge salaries. What is the salary of a governor? What is the salary of a legislator?
Shehu said what was considered outrageous earnings were statutory office running costs, which should ordinarily be managed centrally by the National Assembly Service Commission, NASC.
"I know some people will say members of the National Assembly get up to N10 million or N11 million monthly. Those are not salaries, they are like operating costs of running their offices which in other societies the legislator does not have to see because there is a structure.
"Once you get elected, you make that structure from your constituency office to computers to logistics to the size of your constituency. Wherever you have constituency office, the workers you hire, it is the National Assembly Service commission that is supposed to take care of that."
However, Shehu clarified that the 114 per cent review had been postponed due to economic challenges, adding that the last time the review took place was in 2007 and that political office holders do not earn outrageous emoluments as speculated by Nigerians.
"From 2008 till date, there had not been any single review. Last year, some individuals took the federal government to court. These were some activists concerned about the salaries of judicial officers.
Related News
Ondo Police Commissioner orders probe of alleged assault on woman commissioner
Less than 40m Nigerians paying tax, RMAFC boss laments
Obasanjo's humiliation of monarchs: Incident was unfortunate — Oyo Council of Obas
"In the court, the judge ruled that a judge should be paid about N10 million a month, that was the court ruling.
"We are Nigerians, we are not going to start talking about reviewing salaries of political office holders now because of the challenges that the government is facing.
"As a commission, we are going to do our work but we are not going to say we will do it now. We will do it when the climate is right and then we will take it forward to the stakeholders for them to decide on what to do."
In spite of Shehu's clarification, outrage heralded his justification of salary increment for NASS members and other political office holders.
Among those who spoke on the issue are the Nigeria Labour Congress, NLC; Nigeria Employers' Consultative Association, NECA; Labour Party, LP, Rights and Niger-Delta Activist, Annkio Briggs; and former Member of the House of Representatives, Mr. Abdul Oroh.
It's unjustifiable, unacceptable —NLC
President of NLC, Joe Ajaero, said pay raise for public office holders was unacceptable and unjustifiable in a country where everybody was crying over the high cost of governance.
His words: "High cost of governance was one of the issues we raised at our June 5, 2023 meeting with government, to the extent that one of the sub-committees set up on that day was on the cost of governance.
"Unfortunately, the government has messed up the whole thing. We have been complaining about the jumbo pay and other unjustifiable allowances the Federal Executive Council, FEC, members are earning to no avail.
"We are talking about ministers, their several aides and hangers-on. The same thing is applicable to the members of the National Assembly whose salaries and allowances cannot be justified under any circumstances, let alone a struggling economy like ours.
"We have continued to question the reason politicians seek political positions in this country. Every of their action and inaction has continued to justify the argument that they seek political positions for self-aggrandizement.
"For them, political office is not about service, it is not about the people of Nigeria and Nigeria. It is about them and nobody else. We have been asking for wage awards and other measures to cushion the effects of the petrol subsidy removal but the government has been paying deaf ears to our demands.
"How can you justify a jumbo pay for ministers with their uncountable aides as well as members of the National Assembly and numerous aides and hangers-on? We cannot accept this. When it comes to the workers and other Nigerians, there is no money, the country is broke and the country cannot afford subsidies on petrol. It is unacceptable and unjustifiable."
It's disheartening —NECA
Also reacting, the Director-General of NECA, Adewale-Smatt Oyerinde, said: "While it is important to pay political office holders well to reduce the pressure or propensity for corrupt practices, it is our candid view that in allocating salaries, the principles of justice and equity should also hold sway.
"It is disheartening that at a time the national minimum wage is N30,000 per month, the disparity in wages and salaries in the public sector keep widening.
'If the government can make provision for the increase in salaries and allowances of political office holders, there is no justification why the same cannot be done for civil servants.
"The current huge disparity is a recipe for de-motivation, which could lead to other challenges in the polity."
It's heartless – Annkio-Briggs
On her part, Annkio-Briggs said it was horrifying that jumbo pay for political office holders could be contemplated at a time the exchange rate of the Naira for the dollar and pounds had passed the N1000 mark, foreign debts are in trillions of Naira without means of paying back, the citizenry is suffering and many of them cannot feed or send their children to school.
Noting that some of the senators and members of the House of Representatives were from the Niger-Delta which generates the bulk of Nigeria's foreign revenue from oil and gas, she said it was sad that the government was not looking at the suffering of the people.
Her words: "We have leaders who are not prepared to make one of the sacrifices they are asking the people to make it. The government is owing the NDDC trillions of Naira. The Federal Government is not giving enough allocation to the Niger-Delta ministry. It is owing the Amnesty programme.
"We have representatives of the Niger-Delta in the National Assembly. If they are asking for a 114 per cent increase, what exactly are they doing? What if there is no longer revenue from oil and gas?
"Niger-Delta people have no reason to be poor. What are senators and members of the House of Representatives from the 36 states and FCT doing on behalf of their people to justify salary increments?
"It is heartless. One day the people will wake up and those sleeping in air-conditioned rooms cannot sleep again."
It is insensitive —LP
Similarly, the National Publicity Secretary of Labour Party, Obiora Ifoh, said: "The commission, under paragraph 32b is empowered to determine the salaries of political office holders and judicial workers in the country. So, we have undertaken work on it, we have revised it but we are looking at the situation for now."
Ifoh noted that it was sad that the same administration which was preaching to Nigerians to embrace belt-tightening measures and calling for patience was the same administration pushing for increases in the perks of office for political office holders.
"This is happening at a time when ordinary Nigerians, especially hard-working citizens under the umbrella of the Nigeria Labour Congress and the Trade Union Congress, are demanding living wages without a positive response.
"This is also at a time when the ill-conceived and ill-timed removal of fuel subsidy has increased hardship among ordinary Nigerians.
"We should be talking about improving the quality of lives of ordinary Nigerians and cutting waste in government."
I support a living wage for all — Oroh
Also speaking, Mr Oroh, a former executive director of the Civil Liberties Organisation, CLO, a journalist and federal lawmaker, said: "I think there should be a living wage for everybody whether public office holder or elected person because poor pay is one of the reasons for corruption.
Noting that commissioners, permanent secretaries and judges earn less than N400,000, he said there was no reason for those in the NNPC, NPA and other revenue-generating public corporations to earn more than other public servants.
"There should be a review of wages so that people can live on their wages. There is no social security in Nigeria. The private sector should be encouraged through tax rebates to pay living wages to their workers. We should review it in a way that it will not bankrupt the treasury.
"I agree with RMAFC that there is a need for a review. It is necessary to review wages of public servants, Army, police, and elected officers to reduce corruption. It will also serve as an incentive for hard