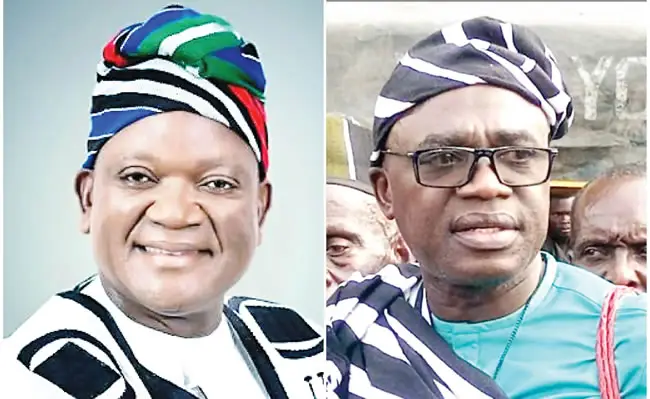 The members of the Peoples Democratic Party, PDP, Caucus in the Benue State House of Assembly have accused the Governor Hyacinth Alia-led administration of unwarranted persecution of former Governor Samuel Ortom.
Recall that the Mr. Hingah Biem led Benue state Assets Recovery Committee recently set up by Governor Alia, Tuesday allegedly raided a private automobile workshop in Makurdi, carting away vehicles belonging to the former Governor from the premises.
The action of the committee was in defiance of an ealier injuction of a Makurdi High Court which restrained the committee from proceeding with its action against the ex Governor and his then Deputy.
Speaking on the development on Wednesday when PDP Caucus members in the State Assembly paid a solidarity visit to the former Governor, leader of the Caucus and member representing Adoka-Ugboju State Constituency, Mr. Michael Audu berated Governor Alia's administration for the action.
According to the Caucus leader, "it is an unwarranted persecution of a former Governor and it is condemnable. The assault was unacceptable, illegal and should be condemned by all people of good conscience.
"So Your Excellency, we are here to reaffirm our loyalty to you as our leader. Any attack on you is an attack on all of us PDP members in the State Assembly, and we will not fold our arms and watch this impunity continue."
The PDP Caucus urged Governor Hyacinth Alia to restrain his team from further harassment of the former Governor and allow the matter to be decided by the courts.
Responding, Chief Ortom appreciated the PDP Assembly Caucus for the solidarity and encouraged them to sustain the spirit of oneness and their commitment to the PDP.
He pointed out that he was not the first Governor to leave office with vehicles allocated to him after the State Executive Council had given approval for him to do so.
Chief Ortom said he was being persecuted unfairly but he would not hold grudges against his tormentors as he had chosen to leave them with their conscience.