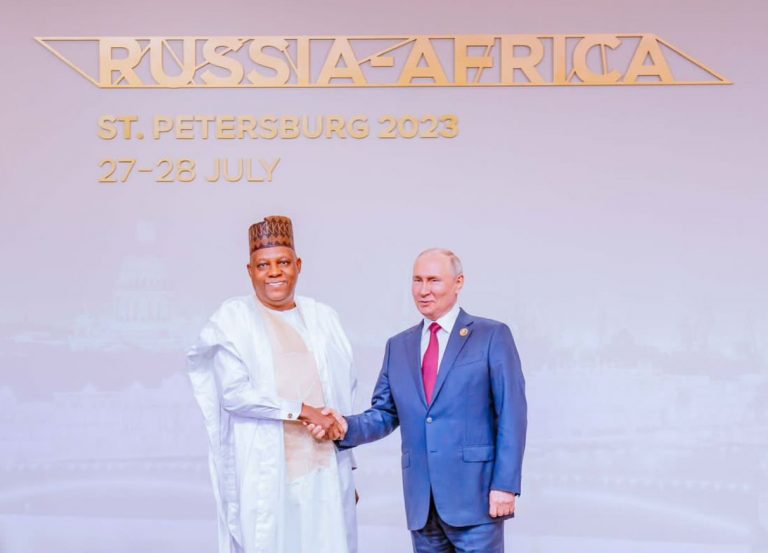 President of Russia, Vladimir Putin, today, announced that in the next three to four months, Russia will supply Burkina Faso, Zimbabwe, Mali, Somalia, the Central African Republic and Eritrea with 25-50 thousand tons of grain free of charge.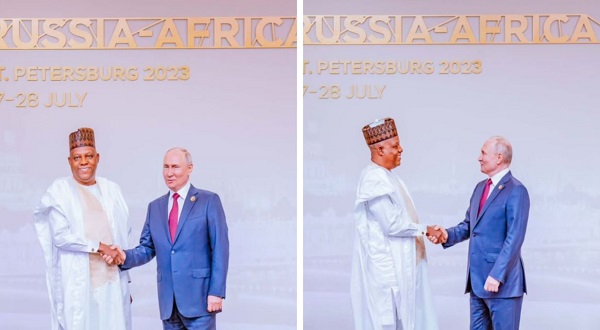 He said his country will also provide free delivery of the product to consumers.
Putin said the gesture was in recognition that uninterrupted food supply to African country, holds the future for sustainable economic development.
He believes that sustained humanitarian aids of such measure will help Africa achieve food sufficiency.
Addressing participants at the Second Russia-Africa economic Forum in St Petersburg Russia, yesterday, Putin said: "Africa's potential is obvious to everyone. Thus, the average annual growth rate of the continent's GDP over the past 20 years which is 4-4.5 percent per year, exceeds the global ones. The population is approaching 1.5 billion and growing faster than anywhere else in the world. It is also characteristic that the growth of the middle class, which forms the main demand for modern goods and services, outstrips similar indicators in most regions of the world".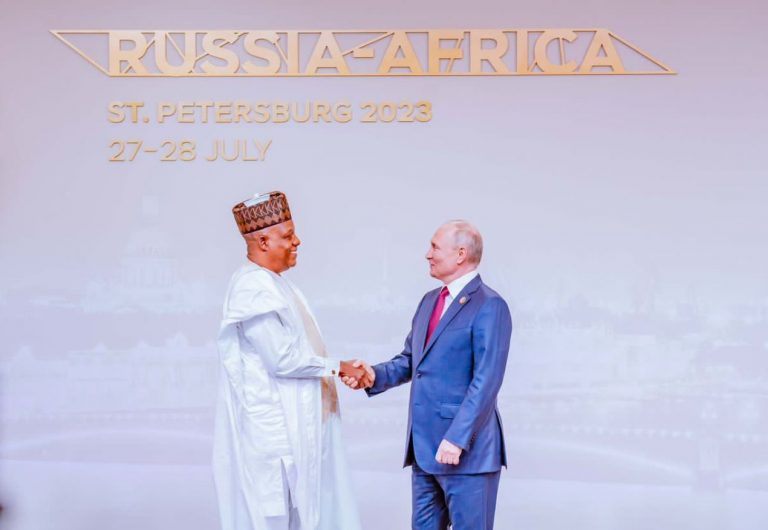 He said Russia, represented by official circles, business and the public, is sincerely interested in the further deepening of multifaceted trade, investment and humanitarian ties with the continent, which meets the needs of all the Russian states and contributes to sustainable growth and prosperity.
"I would like to note that last year Russian-African trade reached $18 billion. This is one of the obvious results of the Sochi Russia-Africa summit. I am sure that together we are capable of increasing trade more radically in the foreseeable future.
"And by the way, in the first half of this year alone, the volume of export-import operations with African countries has grown by more than a third. The structure of trade also looks good: over 50 percent of Russian deliveries to Africa are machinery and equipment, chemical products, and food.
"We understand the importance of an uninterrupted food supply to African countries – this is important for socio-economic development and for maintaining political stability. Therefore, we always pay and will continue to pay special attention to deliveries of wheat, barley, corn and other grain crops to our African friends, including as humanitarian aid through the UN Food Programme.
"Dear friends, the figures speak for themselves: last year, trade in agricultural products between Russia and African countries grew by 10 percent and amounted to $6.7 billion, and in January-June of this year it has already increased by another 60 percent. Russia exported 11.5 million tons of grains to Africa in 2022, and in the first six months of this year alone, almost 10 million tons. And this is despite the illegal sanctions imposed on our exports, which seriously impede the supply of Russian food, complicate transportation, logistics, insurance and bank payments".
He also used the opportunity to hit out at Ukraine and the Western countries who he accused of being hypocritical of the real situation between Russia and Ukraine.
His words: "A paradoxical picture emerges. On the one hand, the Western countries are obstructing the supply of our grain and fertilizers, and on the other hand, I will say it frankly, they are hypocritically accusing us of the current crisis situation in the world food market.
"This approach was especially evident in the implementation of the so-called grain deal, concluded with the participation of the UN Secretariat and initially aimed at ensuring global food security, reducing the threat of hunger and helping the poorest countries, including in Africa.
"However, in almost a year, as part of this so-called deal, a total of 32.8 million tons of cargo was exported from Ukraine, of which more than 70 percent, dear friends, went to countries with high and upper middle income levels, including – and above all having I mean the European Union, while the share of such countries as Ethiopia, Sudan, Somalia and a number of others accounted for – please pay attention – less than three percent of the total – less than 1 million tons.
"Russia agreed to participate in this so-called deal, including taking into account the obligations contained in it that illegitimate obstacles to the supply of our grain and fertilizers to world markets will be removed. And I want to tell you that this, and above all this, is about helping the poorest countries.
"In fact, nothing happened from what we discussed and what was promised to us. None of the terms of the deal regarding the withdrawal from the sanctions of Russian exports of grain and fertilizers to world markets was fulfilled. None.
"Obstacles were also raised for the gratuitous – just now we met with colleagues , with the leadership of the African Union – the transfer of mineral fertilizers by us to the poorest countries in need. Of the 262 thousand tons of such fertilizers blocked in European ports, only two batches were sent – only 20 thousand tons to Malawi and 34 thousand tons to Kenya. The rest remained in the hands of the Europeans. And this despite the fact that it was a purely humanitarian action, which, in principle, should not be subject to any sanctions.
"Well, someone doesn't want Russia, as some say, to "get rich" and send money to military purposes. But it's a freebie! No, they are not released. Despite all the empty talk about the desire to help the poorest countries.
"Taking into account the mentioned facts, we refused to further extend this "deal". I have already said that our country is able to replace Ukrainian grain both on a commercial [basis] and in the form of gratuitous assistance to the most needy African countries, especially since we again expect a record harvest this year.
To be specific, I'll add: "We will be ready in the coming months, in the next three to four months, to provide Burkina Faso, Zimbabwe, Mali, Somalia, the Central African Republic, Eritrea with 25-50 thousand tons of grain free of charge, we will also provide free delivery this product to consumers.
"Perhaps a few more figures will be of interest. Ukraine for the last agricultural year produced about 55 million tons of grain.
"Exports amounted to 47 million tons – a lot, including 17 million tons of wheat. And Russia, dear colleagues, harvested 156 million tons of grain last year. 60 million tons were exported, of which 48 million tons were wheat.
"Russia's share in the world wheat market is 20 percent, Ukraine's is less than five percent. This means that it is Russia that makes a significant contribution to global food security and is a solid, responsible international supplier of agricultural products.
"And those who claim that this is not so, that, this is only securing this so-called grain deal for the export of Ukrainian grain, are simply distorting the facts, telling lies. As a matter of fact, this has been the practice of some Western states for decades, if not centuries.
"Our country will continue to support countries and regions in need, including with its humanitarian supplies. We strive to actively participate in the formation of a more equitable system of resource distribution, we are making every effort to prevent a global food crisis.
"In principle, we are convinced that with the application of appropriate agricultural technologies and the proper organization of agricultural production, Africa in the future can not only feed itself, ensure its own food security, but also become an exporter of various types of food. And from Russia there will be only support, I assure you.
"My colleagues and I were just talking about this during bilateral meetings yesterday, and African colleagues told me, they said: we have the opportunity to produce food – we need technologies, appropriate support.
"For its part, Russia is ready to share its expertise in the field of agricultural production with African countries and to assist in the introduction of the most advanced technologies," he added