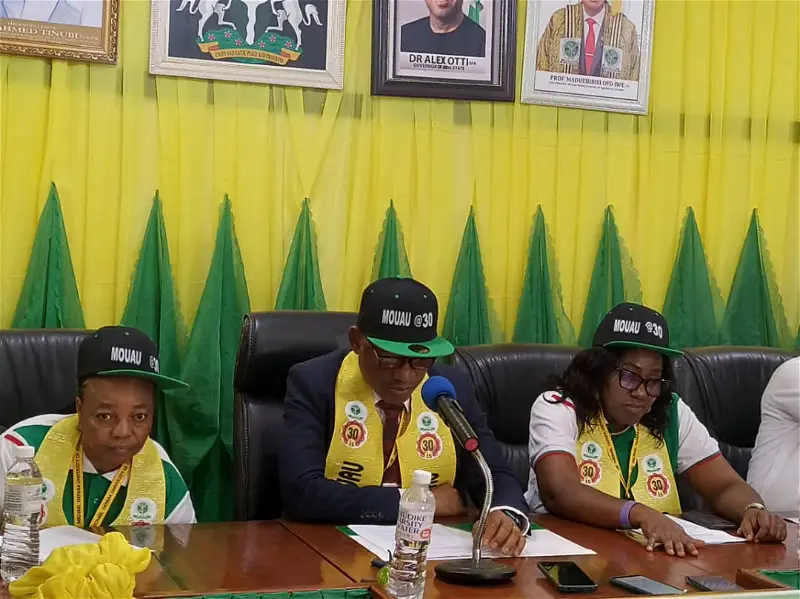 The Vice Chancellor Michael Okpara University of Agriculture Umudike MOUAU Professor Maduebibisi Ofo Iwe, has expressed worry over the refusal of some staff of the university on foreign scholarship to return after their programme.
Professor Iwe who made the observation Tuesday during a press conference to mark the 30th anniversary of the university cum Founder's Day maiden Dr Michael Okpara Lecture series, said it was not proper for staff of the institution to embark on foreign studies on public sponsorship only to abscond from there.
The VC lamented that the ugly development had resulted into shortage of manpower in the affected departments in the institution.
" There is now a persistent challenge of retaining our younger trainees staff who after benefiting from university sponsorship abroad, often sever their ties and decline to return to serve the institution", he regretted.
Professor Iwe called for urgent action to discourage the trend.
" If we don't discourage what is happening now, time is coming when we won't find anyone to teach others. It's not proper for someone to sign a bond for the national cake, and take it abroad to eat and refuse to return home".
The VC who identified paucity of funds as a major challenge of the institution, regretted that 30 years after inception, the university was yet to receive any take-off grant.
Nonetheless, he said that significant achievements had been recorded by successive Managements of the university.
He identified some of the achievements to include the recent floating of table water factory and backery, establishment of commercial fish farm, signing of Memorandum of Understanding with over 12 national and international bodies, among others.
Professor Iwe said that the current Management was intensifying efforts to actualise the ideals of the founding fathers of the university.