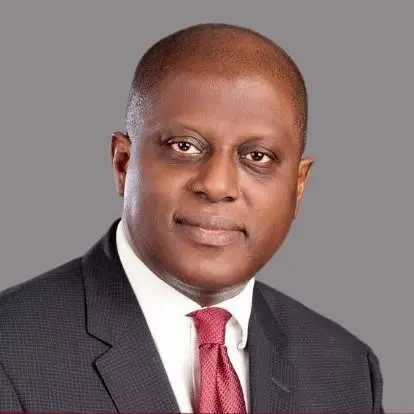 I won't be hijacked by politicians – CBN gov, Cardoso
•Akpabio begs aggrieved senators to sheath swords
•How we'll tackle foreign exchange challenge, others —Cardoso
•Says FX situation worrisome
THE Senate has confirmed Dr. Olayemi Cardoso's appointment as Governor of the Central Bank of Nigeria, CBN. The Upper Chamber of the National Assembly also confirmed Mrs. Emem Usoro, Mr. Muhammad Dattijo, Mr. Philip Ikeazor and Dr. Bala Bello appointment as deputy governors of the apex bank.
These were some of the actions the senators took, upon resumption from their seven-week break, as Senate President Godswill Akpabio begged aggrieved lawmakers to sheath their sword and cooperate with his leadership.
President Bola Tinubu appointed Cardoso and the four deputy governors of the CBN on September 15 and, thereafter, sent their names to the Senate for confirmation. With their confirmation, each of them will serve for a term of five years that could be renewed.
FX very worrisome
Dr. Cardoso gave an insight into how his team would tackle the current foreign exchange scarcity which has reduced the value of the Naira very drastically in recent times.
His words: "For us to have the kind of country that we want, we need to have a foreign exchange rate that is stable. Quite frankly, there are short and medium-term measures but I will say something on the short-term measure because that is really what borders most people today, understandably.
"The Medium-Term measure has to do with Balance of Payment over a period of time and certain steps are already being taken on diversifying the economic base of the country.
"That I believe will continue by the present administration and of course it takes time. And I think we should take that as given.
"The more immediate problem is what I think we need to look at and I think there are two very important issues that we have to address.
Unsettled obligations
"Number one is what I will term the operational issue. Right now we have a situation where the CBN has unsettled obligations and we all know this. We can argue about the numbers but we are aware that there are unsettled obligations by the CBN. We are aware there are unsettled obligations. Whether it is ($)4 billion, ($)5 billion or ($)7 billion, I don't know.
"Certainly, the immediate priority will be to be able to verify the authenticity and the extent of what is owed. And of course once we do that, we have to promptly find a way to take care of that.
"It would be naïve to expect that we will be making too much progress if we are not able to handle that side of the foreign exchange market.
"The second strategy to deal with the FX challenge, according to Dr. Cardoso, is to come up with rules that are open and transparent that any of the players in that business understands."
He added: "We cannot reasonably expect serious foreign investors, portfolio investors, Foreign Direct Investors, and we are talking about short-term please. We cannot expect that those players who will have impacts on your markets will do so if you do not have an open, transparent system that everybody understands and relies on."
He assured that the impact of a transparent FX regime would be greater liquidity in the market, thereby strengthening the Naira.
The new CBN boss noted that the current high inflation rate was as a result of the over 15 years of deficit financing, pledging, "going forward, we will work with the fiscal side to ensure that deficit financing will not be a problem.
Compliance with CBN Act
Responding to issues about compliance with the provisions of the CBN Act 2007, Dr. Cardoso said that under his watch, the apex bank "will have no option than to adopt a culture of compliance," "we will not breach the CBN Act. We will have zero tolerance for abuse of compliance. We will work with this hallowed chamber to ensure we deliver on compliance. Whatever the 2007 Act says, we will comply with it."
Dr. Cardoso assured that his administration would maintain a high standard of integrity.
His words: "This is all I know. In the sense that my calling has been a calling in banking. My calling has been a calling of dealing with institutions that have a culture of compliance.
"I have the reputation of doing things properly. Even in (Lagos State) government, when I was Commissioner for Economic Planning and Budget, I had a reputation for doing things properly and I am not about to compromise that reputation for anything.
"So if there is any doubt that, I want you to disabuse your mind on it. I am not prepared to compromise that."
He added that his team would ensure that the apex bank concentrates on its core mandate, while working very closely with the fiscal authorities.
"As you go about your official legislative duties be reminded, that although our opinions may differ, our common purpose is to advance the well-being of our constituents and our nation.
"In the coming days and weeks, we will address pressing issues, debate legislations, and strive to find common grounds that will move our nation forward expeditiously. I have no doubt that your dedication, wisdom, and integrity will shine through in all your endeavours."