It's world teacher's day!
I regard all teachers that impacted on me as destiny shapers. Let me take out time to celebrate my number one destiny shaper.
Her name is Mrs. Felicia Nkili Osammor. Back then Mrs. Ogwude her colleague, jokingly calls her "otta" and she'll retort "Nwutu". I always felt it refers to their fathers. I never really found out. But I have not forgotten.
Mrs. Osammor, takes the number one position in my line of destiny shapers, for putting her teaching career on the line that I may excel.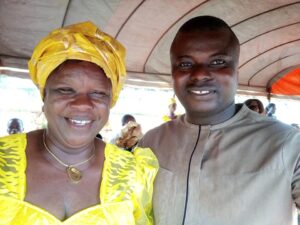 Mrs. Felicia Nkili Osammor, a retired Primary school and her Ex student, Francis Ndimkoha at a function in Delta State, recently.
The Delta State Ministry Of Education had suddenly come up with an idea of a centrally set examination, that yoked all pupils in a particular class together, rather than usual class exams, and I pulled a surprise.
I was in primary 4B, then, as the arms or divisions of a particular class was then referred to, in public schools. It happened that instead of each arm writing exams and producing 1st, 2nd, 3rd and other positions in the various arms, the ministry set an exam that yoked all arms together.
I took overall first position, in a manner that made 4A pupils look so ordinary. By this time, "A" class was reserved for children and wards of teachers and highly placed people in the society, and so producing first position from class 4B was unthinkable. As a matter of fact, the girl that took the second position in my class, Stella Okolie, was actually the overall 14th!
I went home with many gifts that day, including cash gifts from the family of Rev. Canon (Now venerable) Asiekwu, who was pastor of Emmanuel Anglican Church, nearby. Mrs. Asiekwu, wife of the Reverend, was one of my kindergarten teachers.
Boy, my form teacher Mrs. Josephine Adose was proud. So proud. She had suddenly become the darling of other teachers, because, according to her, I excelled because she taught. Well, I'll save the story of my rivalry with her for another. For I was wont to challenge her in class, everytime a new topic is introduced. It got so bad, she'll always report me to Mrs. Onikan, who would preach and preach to me about how I should pretend not to know what I know, even if I felt my teacher was teaching me nonsense.
The secret was my Dad. A man who swore that we must break the barriers that stopped him from being greater than he was. He paid so much for extra and external classes for us, his children. And he'll always say that there's no greater pride than stealing the show, when the teacher introduces a new topic in class. My Dad would ask you where you were when someone else took the first position, if you ever performed so badly, as to come second.
And they was mum, who would make sure you read your books till you slept on it. If you wanted a special favour from mum, tell her to wake you up at night, to read, for a given period of time. Whatever you wanted that period would be granted.
Mr. Justus Chukwuji Maduka, our extra mural lessons instructor didn't let us down. According to him, the school he later established, Brigade Intensive Group of Schools, was inspired by us. He, each time he saw our results, told himself he can do it. And he did float the school.
And so, after that centrally set exam, where I came tops, out of 148 pupils in all the arms, and it was promotion exams, I got to primary 5, was quickly moved to 5A. I had merited it. That was how I landed in Mrs. Osammor's class.
She gave me tests upon tests. And when she felt she was so sure, she approached the Headmaster, Mr. Okoh (Chief Olikaeze) and argued that I should be allowed to enrol for First School Leaving Certificate exams (FLSCE) with primary six pupils! That was unprecedented and the headmaster promptly turned it down.
According to the Headmaster, he wouldn't supervise my going through primary school in Just 4 years, because I never attended primary 1 class. I just started school from primary 2. That was through the advocacy of one of my kindergarten teachers, Mrs. Nduka who vowed that I was too good to be in primary one, since I could already read Nigeria Primary English, Book One, with ease.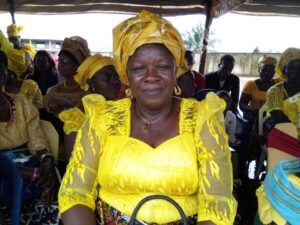 There was total stalemate. But Mrs. Osammor wouldn't give up. Everyday she would be at the headmaster's office, to make a case for pupil who was in no way relate to her, but who according to her can do as she thought.
The headmaster invited my Dad, and convinced him that there was no need for me to be hurried. And dad agreed. This got Mrs. Osammor enraged. But she wouldn't budge. She was ready to pay the fees, and according to her, she won't miss the money, should I not do well in the exam, afterall, I had nothing to lose.
And so one day, she paid my dad a surprise visit! The details of the meeting would always draw me to tears, because it got to a point that my dad asked her why she was persistent and inquired what exactly she saw in me. By the end of the meeting, dad bowed to her superior arguement. He was in school, the next day, to pay for my enrollment, to the utter consternation of the headmaster who couldn't believe he had a man to man talk with the same man a few days ago.
That was how I enrolled for the exam.
Mrs. Osammor monitored me till the exams. She it was who also saw my results first. She had to. Because the headmaster made her put her career on the line, should I dent the record of Ikelike Model Primary School, Ogwashi-Uku. A public school that prides itself as the very best in the area, as it hardly records any failure in external exams.
After the exams, I had continued my classes with primary 5 pupils, while the real primary 6 pupils went on holidays. I also took promotion exams with 5 pupils and passed to primary 6, in case the results wasn't favourable.
Funny enough, after the results came out, I kept coming to primary 6 class, and refused moving on to Adaigbo Secondary School, where I was posted. As at then, the state Ministry of education reserved the right to post students to secondary schools. I didn't want to think that I would miss my friends. Especially because the previous primary 6 pupils were so hostile to me, because they couldn't stomach the fact that I was writing exams with my seniors.
It was also Mrs. Osammor who decided one day, after two weeks of resumption, to draw the curtain on my infantile comic opera. She had to chase me, with cane (Mr. Do good), out of the school, forcing me eventually to proceed to secondary school. She got help from Mr. Okwunwa and Mr. Onyebuashi to do this. For they were the best in corporal punishment, in the school, back then.
Happy Teacher's Day, Mrs. F.N. Osammor, even as you enjoy your retirement.
I will never forget you. What I cannot do for you today, I'll do your grand children wherever I meet them.
God bless you.