The Federal Polytechnic Nekede did not just become the Number One Polytechnic in Nigeria by chance, they worked and earned it. Once again, the Institution is poised and determined to make a big difference in the fight against hunger and food self-sufficiency, placing on the Nigerian market and the sub-region, fresh fish raised in natural and healthy conditions.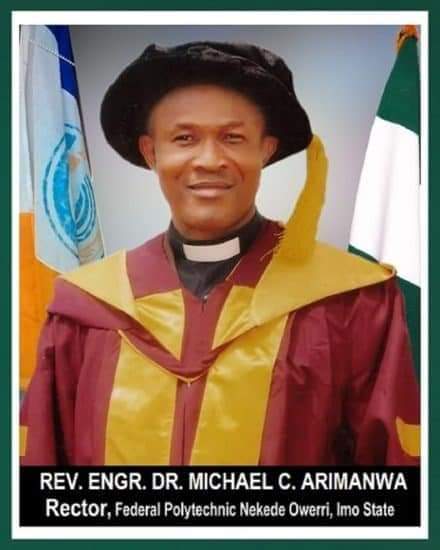 The Institution, led by the Rector, Engr. Dr. Michael Chidiebere Arimanwa (FNSE, FOSHA) and LOFTY FARM, a Togolese organization based in Avepozo, Lome and Nangbeto, led by Akakpovi Kokou, have just signed a Memorandum of Understanding to exchange training programme and also joint partnership projects for the mutual benefit of both parties.
The Memorandum of Understanding, which shall be for an initial term of 5 years, may be renewed and/or reviewed by both parties at any time. In it, Federal Polytechnic Nekede will mobilize and process her students and selected staff for training and internship programmes organized by Lofty Farm, via ideas and technical expertise to create and set up specific aquaculture projects for the Polytechnic in particular and the public and private sector institutions of Nigeria largely.
LOFTY FARM, founded in August 2016, operates two sites. Their Avepozo site produces an annual workforce of more than 10 million fry and Nangbeto site has a commercial fish production unit, a conservation and processing unit (fresh, frozen and smoked fish), as well as a fish feed production unit.
They are well experienced and specializes in the production of fry, merchant fish (Tilapia and Clarias) and the production of fish feed. Beyond fish farming, Lofty Farm is also a training center that will deploy its professionals and technical assistance to the Polytechnic in creation of projects, assist in the procurement of Broodstock tilapia and fingerlings for the starter pack of the Polytechnic Farm.
Reacting after the signing of the agreement, The Rector, Engr. Michael Arimanwa, stated "The partnership is a huge open door that will be beneficial to both the Lofty Farm Limited and Federal Polytechnic Nekede. The staff and students of the institution will be exposed to the techniques of tilapia farming. The institution can become a hub for fish farming in Nigeria.
"I sincerely expect both staff and students to be challenged enough to activate the entrepreneurial spirit in them and take steps to go into fish farming to create wealth and reduce poverty. I am certainly excited at the prospects of the Memorandum of Understanding because of its potential to increase the IGR for the institution and create wealth for staff and students."
According to the Registrar of the institution, Mrs. E. C Anuna, "It is a laudable partnership. FedPoly will gain in terms of new knowledge acquisition/exchange of ideas and innovations. Staff and students, state and the nation will have improve knowledge of agricultural processes which will impact on increased food production."
In his words, the Bursar of the institution, Mr. V. N. Anyanwuocha observed that, "The international partnership is a very laudable idea which aims at providing opportunities for students and staff of Federal Polytechnic Nekede to undertake practical, handholding training on integrated fish farming and aquaculture generally in the biggest integrated fish farm in west Africa. It is intended to provide opportunities for practical experience beyond the theoretical demonstrations of the classroom.
"The gains from this partnership is enormous. First both students and staff will benefit from rich practical experience. Secondly learning international best practices in aquaculture. Thirdly learning the opportunities in all aspects of the fish and aquaculture value chain to be able to practice fish farming as a viable business. Fourth is that the collaboration will further strengthen our position as a Centre of excellence in fishery and aquaculture. I'm excited about the partnership because of its immense potential value for all parties and stakeholders."
A cross section of students who got wind of the partnership, were full of praises for Engr. Arimanwa led Management, as they believed that this will afford them a big opportunity to learn, prepare and equip themselves with international best practices of fish farming and aquaculture.
With the current realities and the movement of global economies, it is time to talk about entrepreneurship as a means of survival, which also nurtures the creative thinking of great minds. It is our strong belief that this partnership between the Federal Polytechnic Nekede and LOFTY Farms, will go a long way in changing the face of entrepreneurship, create wealth and reduce poverty, first in the South East and of course Nigeria as a whole.
It is refreshing to know that Federal Polytechnic Nekede is striving to create jobs and multiple streams of income for staff and students, while at the same time providing solutions to our everyday challange. Most new jobs won'tcome from our biggest employers. They will come from our smallest, says Ross Perot. We've got to do everything we can to make entrepreneurship dreams a reality.
The leadership of the Federal Polytechnic Nekede should be commended for this great, bold and positive initiative aimed at providing life transforming opportunities for individuals to discover and unleash their potentials.
Demosthenes, Greek statesman and orator of ancient Athens summed it up this way, "Small opportunities are often the beginning of greater enterprises."