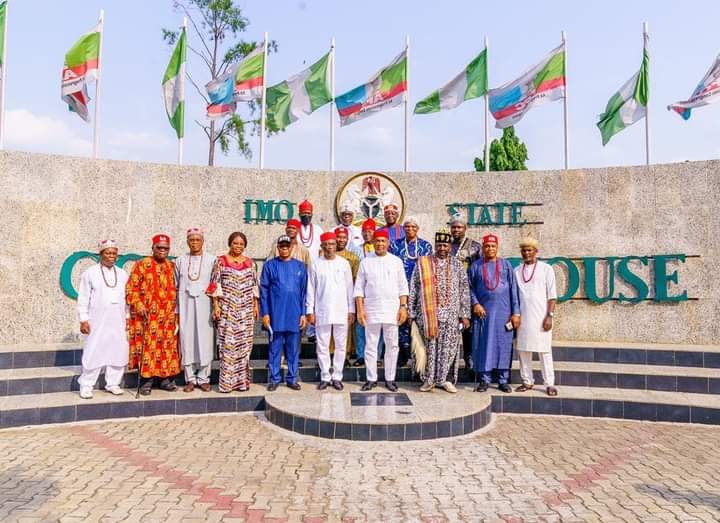 GOV. UZODIMMA REINSTATES 15 TRADITIONAL RULERS SACKED BY THE PREVIOUS ADMINISTRATION.
His Excellency, Distinguished Senator Hope Uzodimma has revived the hopes of 15 Communities as he reinstated their unduly sacked legitimate Ezes by the previous administration.
The Governor of Imo State, Senator Hope Uzodimma in his address said that no government has any right to sack any traditional ruler appointed or elected by his own people, stressed that "The duty of the Government is to approve traditional leaderships appointed by the people and has no power to disapprove or sack legitimate traditional rulers ".
The Governor who frowned at the injustice apologized to the Ezes and their unduly denied communities on behalf of the previous administration. He further disclosed that investigations were made and found no evidence of litigation or criminality against the Ezes as why any Government will sack a duly elected Traditional Ruler.
He also promised to payroll them stating that a worker deserves his pay and added that "we are not going to be party to anything that will stop you from been paid".
LIST OF SACKED TRADITIONAL RULERS REINSTATED BY GOV. HOPE UZODIMMA
HRH Eze Jude Ukanyirioha
of Ekwereocha, Ihitte Uboma
HRH Eze Ali Desmond of
Obinoha, Mbaitoli
HRH Eze Oliver C. Ochomma of
Elugwu Okabia, Orsu
HRH Eze Peter C. Opara of
Umunumo, Ehime Mbano
HRH Eze Dominic Chukwudi Nnamdi of Umuaru 11, Isiala Mbano
HRH Eze Nwokorogu Emeka Rex of Amuro, Okigwe
HRH Eze Enyinnaya Micheal Ndoh of Ezeachi, Orlu
HRH Eze Wilford Mbagwu of Abueke, Ihitte Uboma
HRH Eze Sir Obi Ejeshi of Emekuku, Owerri North.
HRH Eze Victor O. Amadi of Okirika Nweke, Ahiazu Mbaise
HRH Eze Ekwomadu Kenneth of Isiama, Orsu
HRH Eze Chukwunyenye Chikodi Neol of Awo Ohii Dim atta, Ikeduru
HRH Eze Engr. F Onwubiko of Amuzu, Aboh Mbaise
HRH Eze Barr. V. Ijeoma of Isiozi Akah, Njaba
HRH Eze Sir Christopher Anele of Ntu, Ngor Okpala.