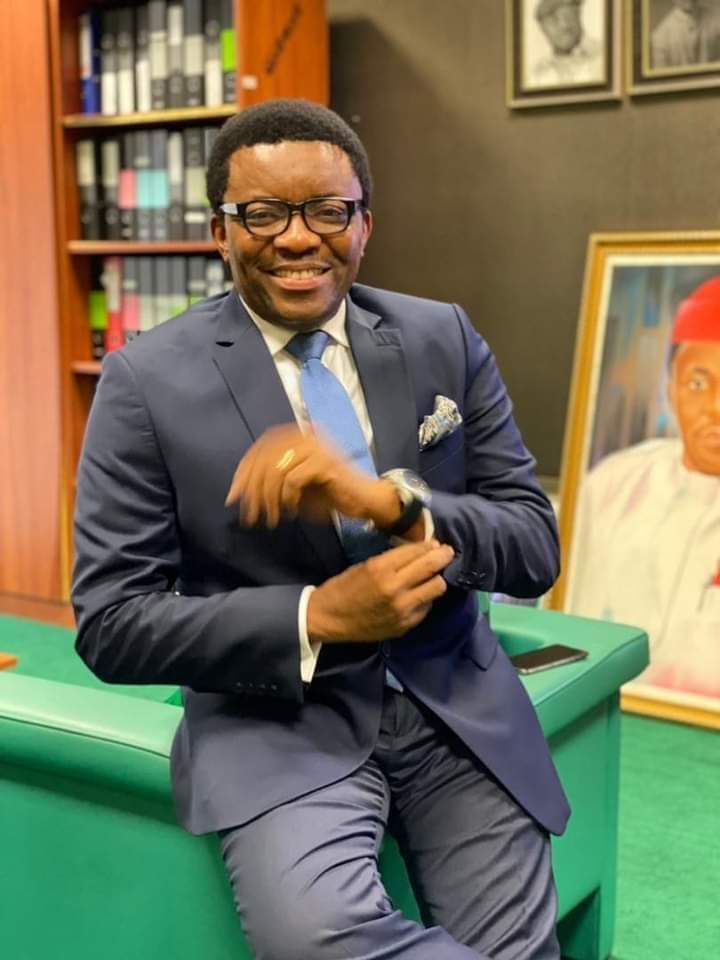 According to one Igbo proverb, " Kings are born and not made." So it is with Rt. Hon. Chike John Chike Okafor
On the other hand, John C. Maxwell, opines that a leader is one, who knows the way, goes the way, and shows the way"
A great leader also practises what he preaches by "going the way". This means that he has good and strong values and acts congruently with what he believes in.
The member representing Okigwe South Federal Constituency, comprising Obowo, Ihitte-Uboma and Ehime Mbano Council Areas in the Federal House of Representatives, Abuja and two term parliamentarian, Rt Hon Deacon Chike John Okafor, without doubt fits well into the foregoing definition of a good leader.
Many might not know that the erudite, urbane and principled personality, is an economist, crown Prince of Umuokeh Kingdom in Obowo Local Government Area of Imo State and had a flourishing banking career before moving into politics.
He started his political career as the Finance Commissioner of Imo State under the administration of Chief Rochas Okorocha and gave a good account of himself as he left without any dent and remains one of the outstanding appointees that helped to stabilize and package the government of Okorocha.
It was during this period I first met Deacon Okafor, through my boss Dr. TOE Ekechi (High Chief) who then was the honourable commissioner for Information and Strategy. My encounter with him revealed a young man who had dedicated his life to serve God and humanity. As a commissioner, he was building and donating critical infrastructure to his constituents, religious organizations, schools and even government institutions like correctional centres etc. No doubt, Obowo- born financial wizkid, turned politician, distinguished himself as an uncommon political activist, propelled to impact positively on the lives of his people.
Hence, it was not surprising in 2015, when he became a member of the Federal House of Representatives under the platform of the All Progressives Congress (APC).
As a parliamentarian, Rt. Hon Chike John Okafor, has proven that with determination, dedication and honesty, it is possible to surpass expectations with accomplishments that are awe and too numerous hence difficult to capture all in this piece.
While performing well as the Chairman of House Committee on Healthcare Services; Hon. Deacon Chike John Okafor, who also chairs various Ad-hoc Committees like, (Committee on Non-Oil Revenue and Remittances and member of various committees such as, Committee on Appropriations, Finance, Health Institution, Agricultural Services, Rural Development, Housing and Aids, Tuberculosis and Malaria Control), has sponsored more than four (4) bills and thirteen (13) motions so far in the House of Representatives including, the crucial Bill for an Act to Repeal the Counterfeit and Fake Drugs And Unwholesome Processed Foods (Miscellaneous Provisions) Act Cap C34, Laws of the Federal of Nigeria, 2004 and to make Comprehensive Provisions for the Prohibition and Control of Counterfeit and Products, 2012 among others.
It was therefore not strange when he received the Most Proactive Lawmaker Of The Year (Federal) honour.
Rt. Hon. Chike John Okafor believes that the essence of holding political appointment either elective or appointive is to bring development to the people and to touch their lives positively and meaningfully.
In view of that the Honourable Member Representing Okigwe South in the Federal House of Representatives, has secured over 20 employment opportunities at NAFDAC for sons and daughters of his constituency.
Besides awarding scholarships and providing educational support for some students, he singlehandedly built a secondary school in his native Obowo Local Government Area of Imo State. He also provided transformers and ensured the electrification of some communities in the council area while still serving in the executive arm of government under Okorocha.
As a man, who maximizes every opportunity, Hon. Okafor, used his good offices as chairman of the House Committee on Healthcare Services in the House of Representatives during his first term to bring health to the doorsteps of his constituents by attracting the renovation of about 80 primary health centres in his constituency. He also constructed five cottage hospitals from the scratch and equipped them.
In addition, he has enrolled about 10,000 of his constituents in the National Health Insurance (NHIS) scheme of the federal government, which takes care of their basic health challenges.
In 2016, Rt. Hon. Okafor started his free annual medical outreach. According to him, "The outreaches were to complement the healthcare programmes of the state government and part of my resolve to ensure a better and far-reaching approach towards the good health and wellness of my immediate constituents."
At the 2016 edition, a total of 30,000 out-patients received treatment. Some had major and minor surgical interventions. Due to the success of the 2016 edition, the lawmaker expanded the outreach programme in 2017 to cover the entire Okigwe Zone.
His words: "My major target in the green chamber is to attract massive development to my great Constituency, vigorously pursue human capital development and to institute programmes and policies that will better the lives of my constituents."
Pursuant to that target, he has acquitted himself creditably and proved that politics is mainly for service to the people and not for personal aggrandizement.
As a true believer in the doctrine of politics without bitterness, popularized by late Alhaji Ibhrahim Waziri of the Great Nigerian People's Party (GNPP) during the Second Republic, Rt. Hon. Chike John Okafor, though a product of Okorocha's Rescue Mission, diligently switched allegiance to the Governor of Imo State, Distinguished Senator Hope Uzodimma, in a rare demonstration of pragmatism and all in the greater interest of the State.
Irrespective of the negative interpretations of naysayers, he did not make that altruistic move under coercion or to spite anyone- no. It was a smart and patriotic step taken to promote peace, unity, cohesion and development in Imo State.
So far, Rt. Hon. Chike John Okafor, has never defaulted in his zeal to help the present APC-led government of Senator Uzodimma achieve its set objectives.
I truly commend him like many other men and women of goodwill for being who he is – a good and loyal party man, team player, revolutionary parliamentarian, selfless leader with eyes set on changing the negative past narrative and working assiduously for a paradigm shift in the approach to legislative representation.
His constituents are happy with him. Imo people are proud of him for being one of the effective representatives not known for grandstanding.
Kudos to the man of the moment! Rt. Hon. Chike John Okafor for being a replica of legislative artistry and positive pragmatism.
Cajetan Duke writes from Nguru Umuaro, Ngor Okpala LGA, Imo State.