… Say Fund is Sequel To Their Endorsement of him, in February
A new record is set to be created in Okigwe South Federal Constituency, as the race for House of Representatives seat hots up, following the donation, on 3rd May 2022, of the sum of 2,050,000 (two million and fifty thousand naira) to Hon. Deacon Chike okafor to support his purchase of Nomination forms for the coveted seat.
Some members of the Association, numbering over 450, cutting across all the wards in Ihitte-Uboma Local Government Area made the donation, to back their resolve to support the 3rd term bid of Hon. Deacon Chike okafor, following his sterling performance this far.
It will be recalled that on 20th February, 2022, this youths Association had gone out of their way to endorse Hon. Deacon Chike okafor for another good term of office, even ahead of his official declaration, in what has now come to be known as the famous UMUOMA DECLARATION 2022.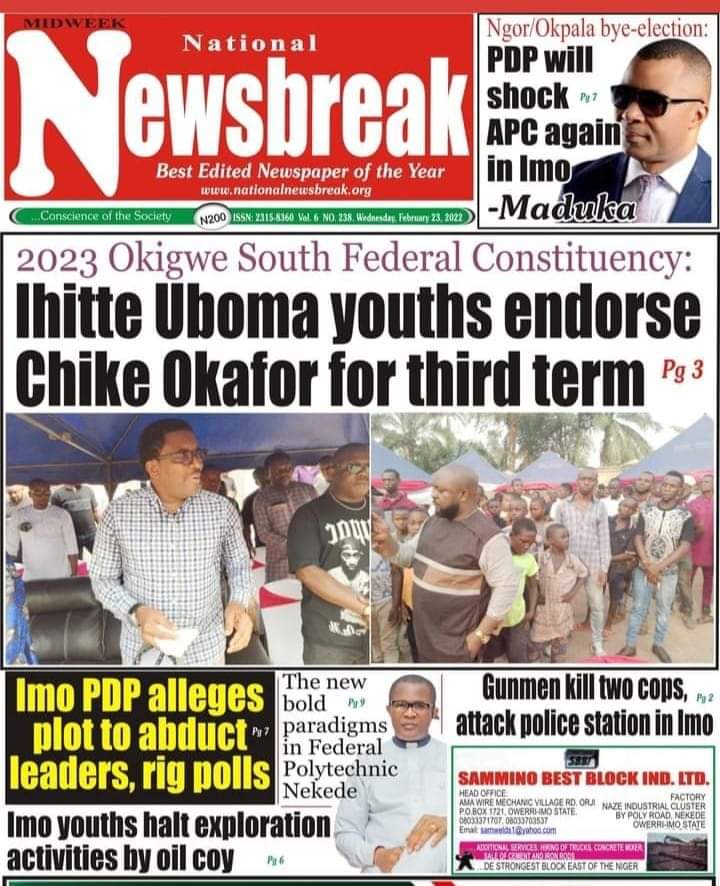 The endorsement which was initially oral, thereby raising doubts as to its authenticity was backed up with an official communique, signed by the leadership of the Association as well as the representatives from all the wards in LGA.
According to the youths, this move to raise funds for the purchase of Nomination forms for Hon. Deacon Chike Okafor was borne out of deep and sincere resolve to reward excellence with a pat on the back.
The youths averred that in the History of the Constituency, no other Representative has been this effective and leaving developmental footprints all over the Federal Constituency, especially in Ihitte-Uboma.
Hon. Chike Okafor, who was not in the know of the fund raising was intimated by Arc. Achi Christopher, from Ikperejere ward, who warehoused the funds, and handed same to the young legislator, on behalf of the leadership of Youth body.