Popular Igbo Philanthropist Chief Chika Emenike (Ojichukwu) who is the Chairman/CEO of Kotec Group on Saturday, November 27th, 2021 donated and dedicated a church he singlehandedly built in his hometown, Urualla to God.
The Church formerly known as St Michael Catholic Parish Urualla in Imo State was rebuilt and upgraded to a ProCathedral.
Speaking on why he decided to upgrade his local church to a Cathedral, Chief Emenike said he was inspired and led by God to build the cathedral. "It all started by an instruction by the Bishop that our local church tower must be erected before the church will be given a Diocese. It took the church about 5-6years to build the tower, though it wasn't completed by the church and due to the poor structure of the tower, God made it possible for me to demolish the old structure and rebuild the Tower".
"After that, my mother was Kidnapped and I paid some ransom for her release, but I equally promised God that if the kidnappers are caught and the money recovered that I'll donate the whole money to God, and as God may have it the money was recovered and was handed over to the Church as promised".
"Thereafter my younger brothers, Uche and Ogoo Emenike encourage me that we have to build a Church to God and I gave it a thought and then I met out Parish Priest then, Fr. Emma Okonkwo who I invited to my house and told him to submit the survey plan of the building. Even when the Quantity Surveyor gave me the breakdown of what it will cost to put up the building, I didn't have that amount of money but I believed God that I am serving would provide the money. So I promised to take over the building project in April 2013".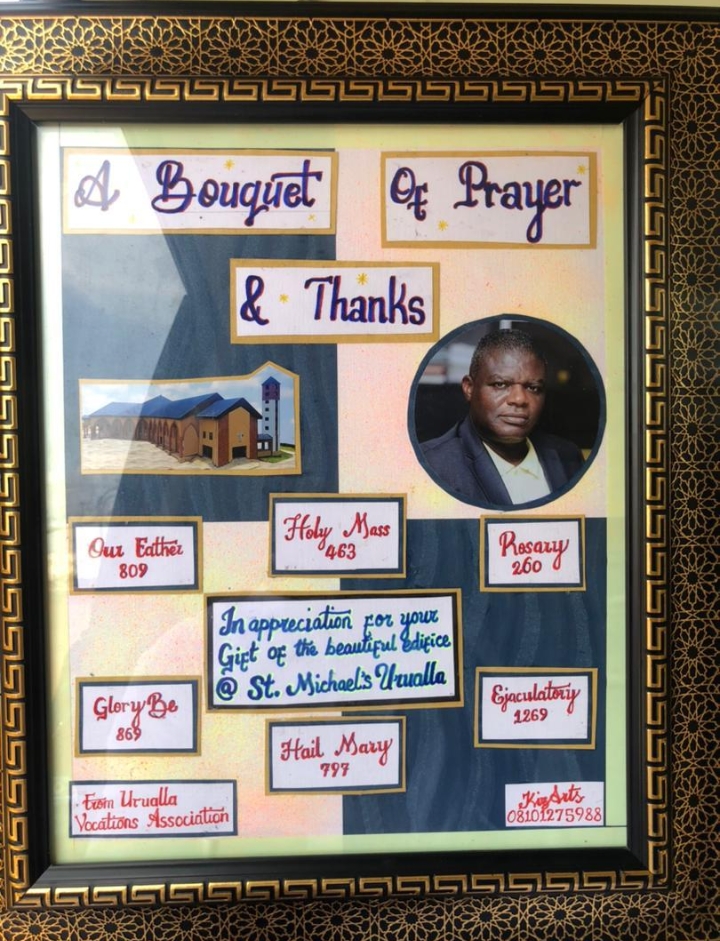 Speaking further, Chief Emenike stated that whenever he is involved in doing the work of God, God blesses me in all aspects of life and all endeavors, and as a result of the blessings of God upon my life, there is nothing that I will use to thank God that is enough. Money cannot buy God's blessings. God owns me and everything I have belongs to God.
Appreciating Chief Emenike on erecting a befitting dwelling place to worship God, the Bishop of Orlu Diocese, Bishop Augustine T Ukwuoma thanked Chief Chika Emenike for hearkening to the voice of God who needed him to accomplish this task. I pray for God's abundant blessing on him and his family. I am pleased with his efforts towards building and handing over the parish to the diocese. I know that God to whom he has erected a dwelling place for through thick and thin, heedless of the cost of things will bless and reward him here and hereafter.
The dedication of the Cathedral witnessed high dignitaries both from the church and business community.