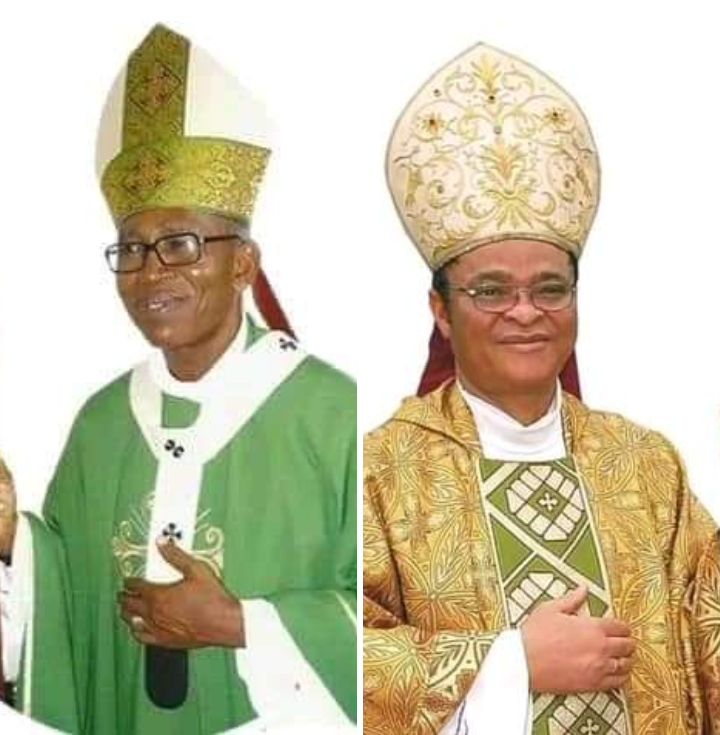 TYPES OF BISHOPS IN THE CATHOLIC CHURCH
DIOCESAN BISHOP: He is a Bishop who reigns like a King in his domain called Diocese. In an Archdiocese, he is called Archbishop. He administers his Diocese until he attains a retirement age of 75 years. No visiting Bishop sits on his Episcopal seat, even as a chief celebrant in a mass. Whenever a visiting Bishop is presiding over a priestly ordination or funeral mass in the cathedral, the episcopal seat is replaced with an ordinary while the host Bishop sits on his Episcopal seat at a corner. He doesn't flank a visiting presiding Bishop in his own Cathedral.
CO-ADJUTOR BISHOP: He is a Bishop appointed to succeed a retiring diocesan Bishop. While waiting for his Bishop to retire, he shares the episcopal functions of the diocese with him. These functions are majorly ordinations, discipline of priests, finance, evangelization of the people, sacramental administration and developmental functions. He shares the Cathedral with the Bishop. In the case of an Archdiocese, he is referred to as Co-adjutor Archbishop.
TITULAR BISHOP (AUXILIARY BISHOP): He is a Bishop without domain but appointed to assist a diocesan Bishop in the performance of his episcopal duties. He neither lives with the Bishop nor shares functions with him. He has no automatic right to succeed the Bishop unless he is appointed to the position by the Holy See. There are also titular Archbishops but they serve in the diplomatic service of the Holy See as Apostolic Nuncios.They don't serve in Archdioceses as assistants to Archbishops. Even in an Archdiocese, the auxiliaries there are ordinary Bishops.There is nothing like auxiliary Archbishop. Titular Bishops are not local ordinaries and can be transferred to serve anywhere by the Holy See.
A titular Bishop who (auxiliary Bishop) doesn't share the episcopal functions of a diocese with a diocesan Bishop but assists him as he directs him to make his Episcopal works easier. He doesn't share the Cathedral with the Bishop but is assigned a Parish from where he operates. They usually visit their titular Dioceses and celebrate masses but they don't have Episcopal authorities over those titular Sees.
IMPORTANT QUESTIONS AND ANSWERS
WHEN WILL BISHOP LUCUIS UGORJI BECOME ARCHBISHOP OF OWERRI?
When a Bishop is transferred to another diocese, he is given two months, from the time he receives notification of the transfer, to take canonical possession of his new diocese.
Let us look at Can. 418 §1: "Upon certain notice of transfer, a bishop must claim the diocese to which he has been transferred (ad quam) and take canonical possession of it within two months".
So, Bishop Lucius Ugorji of Umuahia Diocese has between now and the month of May to take Canonical possession of Owerri Archdiocese and become its Archbishop.
SINCE BISHOP UGORJI HAS BEEN TRANSFERRED TO OWERRI, IS HE STILL THE DIOCESAN BISHOP OF UMUAHIA?
From the moment his appointment was announced, Bishop Ugorji is no longer the Bishop of Umuahia Diocese but has now become the Apostolic Administrator of Umuahia Diocese. He will be the Apostolic Administrator of Umuahia Diocese until he takes Canonical position of Owerri Archdiocese. it is by the act of taking canonical possession of Owerri that Umuahia Diocese becomes vacant. (Can 191 §1).
HOW WILL BISHOP UGORJI PERFORM HIS DUTIES AS APOSTOLIC ADMINISTRATOR OF UMUAHIA DIOCESE?
While serving as a Diocesan Administrator, he cannot make any changes in the Diocese. Canonically, Bishop Ugorji cannot make any changes in Umuahia Diocese while serving as its Administrator. (Can. 428 §1). He now lacks the full Episcopal powers to dissolve any already established structure or office. He also lacks the powers to make any new appointment. He will only work with what is already on ground and bow out.
WHO WILL ADMINISTER UMUAHIA DIOCESE WHEN BISHOP UGORJI BECOMES ARCHBISHOP OF OWERRI?
Since Umuahia Diocese has an auxiliary Bishop, he will become the Apostolic Administrator of Umuahia Diocese. On the day that Bishop Ugorji becomes Archbishop of Owerri, the Auxiliary Bishop of Umuahia Diocese, Most Rev Michael Kalu Ukpong will become the Apostolic Administrator of Umuahia Diocese.
WHY WILL THE AUXILIARY BISHOP OF UMUAHIA BECOME APOSTOLIC ADMINISTRATOR INSTEAD OF AUTOMATIC DIOCESAN BISHOP?
The auxiliary Bishop does not have automatic power of succession since he is not a Co-adjutor Bishop. Co-adjutor Bishop is the type of Bishop that immediately assumes full Governance of the diocese when the bishop dies or retires. Before taking over, he co-administers the Diocese with the Diocesan Bishop. He lives in the same Cathedral with the Bishop. He has no titular diocese like Auxiliary Bishops because he is a co-shepherd of a diocese unlike an Auxiliary Bishop who is a titular Bishop. Co-adjutor Bishops are like Crown Princes who have automatic rights to succeed their Kings. Co-adjutor Bishops are always appointed one or two years to the retirement of the Diocesan Bishops they will succeed.
CAN BISHOP MICHAEL KALU UKPONG BE APPOINTED THE NEW BISHOP OF UMUAHIA?
It is possible that the Pope can Appoint him to become the new Bishop of Umuahia Diocese. The current Bishop of Awka Diocese, Most Rev Paulinus Ezeokafor was formerly the Apostolic Administrator of Awka before he was confirmed as the Bishop of Awka. However, it is not a right.
WHY DIDN'T THE CURRENT AUXILIARY BISHOP OF OWERRI, MOSES CHIKWE BECOME THE NEW ARCHBISHOP OF OWERRI?
He is not a Co-adjutor Bishop and so doesn't have automatic right of succession.
Becoming an Archbishop sometimes requires an older and experienced Diocesan Bishop.
E.g. When John Cardinal Onaiyeken of Abuja Archdiocese retired, his auxiliary, Bishop Anselm Umoren didn't become the Archbishop. Archbishop Ignatius Kaigama was transferred from Jos to become the new Archbishop of Abuja.
WHAT HAPPENS TO THE AUXILIARY BISHOP OF OWERRI, MOSES CHIKWE NOW?
The current auxiliary Bishop of Owerri, Most Rev Moses Chikwe can remain in his position till the retirement of Archbishop Lucius Iwejuru Ugorji and take over if it pleases the Holy See.
Bishop Moses Chikwe can also be transferred to a vacant See as Diocesan Bishop by appointment. If that happens, he will take canonical possession of the Diocese after installation. With his installation, he will cease to be a titular Bishop and his titular See will be withdrawn.