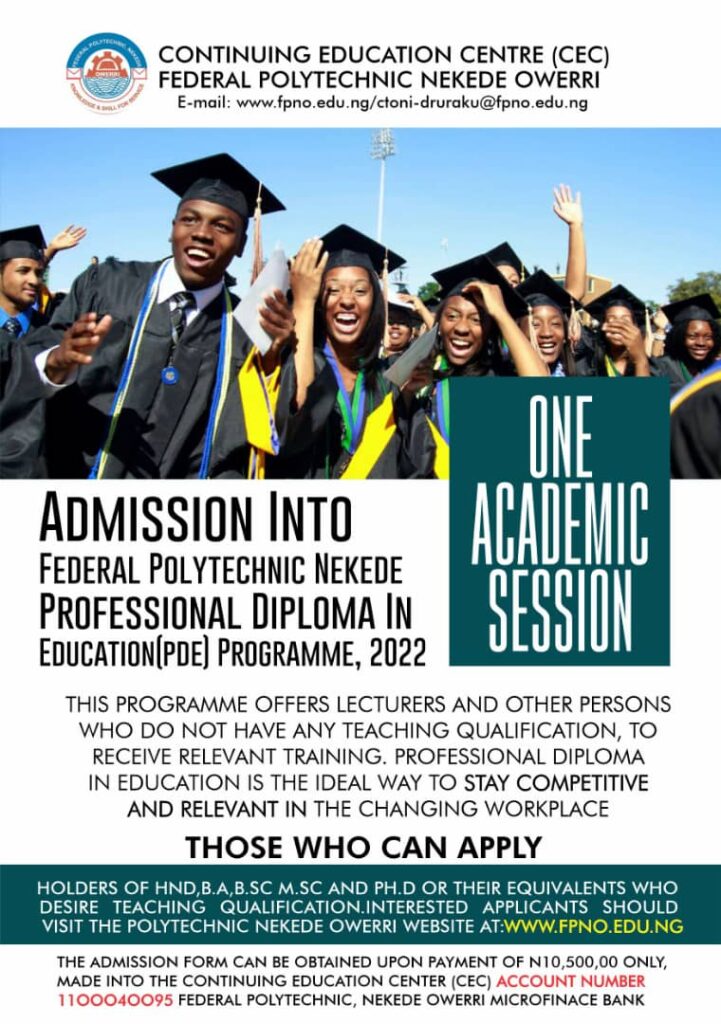 ADMISSION INTO FEDERAL POLYTECHNIC, NEKEDE PROFESSIONAL DIPLOMA IN EDUCATION (PDE) PROGRAMME, 2022.
The Continuing Education Centre (CEC) Federal Polytechnic Nekede Owerri, hereby invites qualified candidates who desire to be admitted into the Professional Diploma in Education (PDE) Programme run by the Centre with the approval of the Teachers Registration Council of Nigeria (TRCN), to complete the application form for 2022.
This programme offers opportunities to lecturers who do not have any teaching qualification, to receive relevant training in Education and subsequently be certified in the discipline. A Professional Diploma in Education is the ideal way to stay competitive and relevant in the changing workplace.
Experienced and competent resource persons have been engaged to teach the successful candidates. The Centre has enough infrastructural facilities to aid effective teaching and learning.
The professional training is for one academic session and runs independent of the regular academic calendar of the Federal Polytechnic, Nekede.
THOSE WHO CAN APPLY
Holders of HND, B. A, B.Sc. M.Sc and Ph.D or their equivalents who desire teaching qualification.
Interested applicants should visit the Polytechnic Nekede Owerri website at: www.fpno.edu.ng
The Admission form can be obtained upon payment of N10,500:00 only, made into the Continuing Education Centre (CEC) Account
number 1100040095, Federal Polytechnic, Nekede Owerri Microfinance Bank.
PROFESSIONAL QUALIFYING EXAMINATIONS (PQE)
This is conducted by the Continuing Education Centre for teachers and intending teachers who have not obtained teaching qualification after the training.
Note: The PQE qualifies you to obtain the Teachers Registration Council of Nigeria (TRCN) certificate and license.
For more inquiries, please contact the undersigned:
Chioma Toni-Duruaku ESQ.
Director,
Continuing Education Centre
Federal Polytechnic Nekede
P.M.B. 1036
Owerri, Imo State,Nigeria
E-mail: ctoni-duruaku@fpno.edu.ng
Contact: +234-902-752-1455
POWERED BY:
FEDPONEK GAZETTE