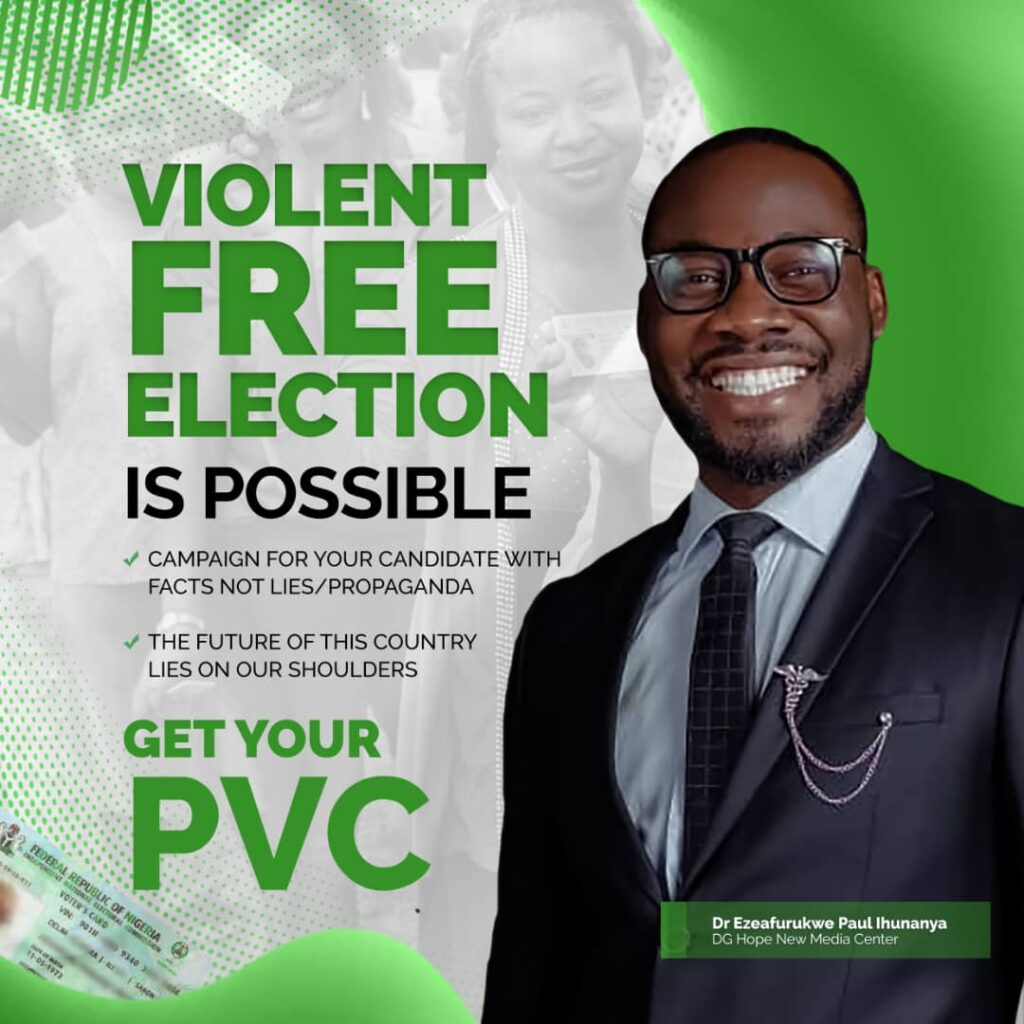 CAMPAIGN FOR YOUR CANDIDATE WITH FACTS NOT LIES AND PROPAGANDA
As preparations for the 2023 General election hots up, it is clear that political parties are all working with INEC directives to conclude the processes of getting a standard bearer on or before June 3rd, 2022 in line with the new Electoral Act.
This development in our nations polity has opened another window of opportunity for political gladiators and those who may have an eye for various elective positions. While some political parties may have started the sale of the Expression of Interest and Nomination forms, others are yet to. It is expected that amongst the league of politicians lined up to succeed or return elected, for the various political offices, buying the forms elevates them to the status of aspirants and differentiates "men from boys" as well as pretenders from contenders.
Ahead of political party primary elections, aspirants have begun to embark on consultations from one state to another; LGA to LGA; Ward to Ward depending on the office being aspired for, even as Party Executives and various stakeholders are not left out just to ensure that they are either adopted before the primary election or advocate for a level playing ground during the internal party exercise.
It is often said that the 3C's of politics are Consultation, Consolidation and Confrontation. It is at this point of confrontation that our politicians and their followers tend to get it all wrong. They are ready to sacrifice everything and anything that holds their morals, sanity, conscience and humanity at the altar of politics just to confront their perceived opponents not just the election.
This situation has always left a bitter tale to tell and experiences that have remained indelible as we have lost so much in the hands of desperate politicians and their supporters all in the bid to grab power. Campaigns of calumny, hate speech, propaganda and lies have all become the order of the day in our politics as it has been weaponized for the sole purpose of pitching the Public against a particular candidate either by a politician and his supporters or one political party against another.
While political parties and their members may think they have the monopoly of making unguarded utterances and actions, they should be aware that their words and actions are fashioned against the peaceful atmosphere of the State. If not restrained, it can react accordingly and by so doing the polity is heated up.
A Violence free election is possible in Nigeria and in our dear state, only if politicians can run an issue-based campaign devoid of lies, hate speech, propaganda and campaign of calumny. Campaign is not a ground to ruin your opponents or other political parties but a platform to intimate the electorates on your manifesto, presentation of new ideas or ways to move the country forward, the change your leadership will bring, amongst many other things.
Most times it is near impossible to believe that supporters of an aspirant or political party can go out of the ways of the aspirant or party to attack opponents, just to prove a point. It is therefore, high time aspirants began to set examples with these uncouth supporters, if truly they are not encouraging them, then we are a step ahead towards getting it right.
Politicians and their Political parties should be aware that 2023 General Elections is not the time to insult the sensibilities of Nigerians through unfounded allegations as it will no longer work. We are now wiser and stronger and if the only agenda/manifesto you have is to always tell us about Mr. A and his political party without telling us what you're bringing to the table then you're no different from that person you condemn and we won't support for you.
It is time we unite against those whose stock-in-trade is to peddle lies, propaganda, hate speech, inflammatory comments against their perceived opponents just to get our votes. This creates unnecessary tension in our polity and fuel anger that will see to our destruction while they live comfortably, guarded by heavy security. We must say No to such campaign and demand for issue-based campaign.
Do not tell us about other aspirant/candidate instead, tell us what you can offer.
When this is done, the 2023 General Elections will come and go, we will elect credible leaders while enjoying the peace and harmony that comes from a successful election.
May Nigeria Succeed.
Dr Ezeafurukwe Paul Ihunanya
DG Hope New Media Center