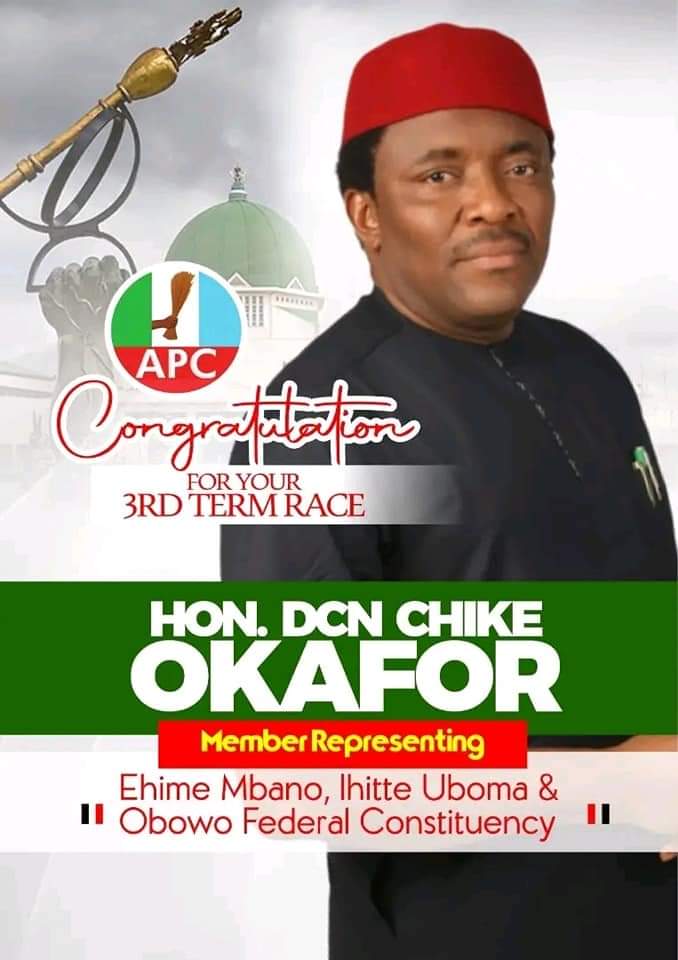 Hon. Deacon Chike Okafor, the member representing Ehime-Mbano, Ihitte-Uboma, and Obowo Federal Constituency in the House of Representatives has just secured the ticket of his party, the APC, to run for a third term in the Green chambers, and shared his on thoughts on social media:
THANK YOU, OKIGWE SOUTH!
THANK YOU THE ALL PROGRESSIVESCONGRESS,APC
THANK YOU HE,SENATOR HOPE UZODIMMA!!!
For the third time, I have been returned as the candidate of my party, the All Progressive Congress (APC) for the Okigwe South Federal Constituency election.
Yet, not once have I taken that gesture for granted.
I absolutely understand what it means to be entrusted with the mandate of my party and the fate of my people.
So, I thank, most profusely, the delegates of my party from across Ehime Mbano, Ihitte Uboma and Obowo for the confidence they have reposed in me.
And as the polls come through, I promise to attain and exceed your expectations in service delivery.
I also salute the leadership of our great party, the APC, for providing us with such a veritable political platform and for always standing by us through the electoral process.
I particularly appreciate the performing Governor of Imo state and the leader of our party in the state,and in the South East,His Excellency,Senator Hope Uzodinma, who I cannot thank enough for his astute political leadership of our party and his developmental governance of Imo state.
For always believing in me, I thank you Your Excellency and do hereby reassure that our support and loyalty to your administration and the course of Imo state shall remain as constant as the Northern Star!
I commend in a special way, the spirit of sportsmanship exhibited by my brothers and sister,who contested with me, and wish to most respectfully state that all of you are eminently qualified for the Rep job. My tiny edge being my ranking status at the Green Chambers.
However, it is a consensus in political circles that a ranking member is open to more privileges and opportunities of drawing more dividends of democracy to his constituency than a fresher.
With a ranking member in the chambers, everyone wins, including my co-contestants and all. There are individual and collective benefits to be harnessed for our constituents when a ranking member, and a potential third-term member at that, is elected to represent our people. I thank you all for your understanding and mature disposition.
This is the more reason I consider my emergence not a personal win but the collective victory of the people of Okigwe South. Which is why you will not find any of my supporters gloating in celebration but more or less working on reaching out, building bridges and rallying our people so together we can win big in the general election.
To my leaders and all the principal stakeholders in Ehime Mbano,Ihitte Uboma and Obowo,I am most thankful for your support and solidarity.
There is no better way to say that I'm in your debt, once again.
I appreciate the initial doubt of some of our leaders and your right to so do, and hereby thank you most sincerely for your wisdom and understanding of our peculiar circumstances.
I however urge us all to close ranks,rally round and join hands with me to build a formidable election-winning political machinery that will go beyond delivering Okigwe South to our party,to returning our dear Governor for a second term in office, come 2023.
In all, I appreciate the honour done to me and accept whole-heartedly to fly the flag of our great party, the APC, in the general election.
All I have always done, and will continue to do, has been to strengthen our party within my constituency and beyond, and to always endeavor to return value and verifiable dividends of democracy to my people, the good people of Okigwe South Federal Constituency.