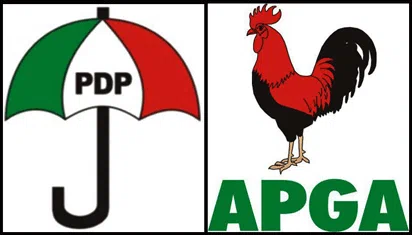 ELECTED Peoples Democratic Party, PDP, member representing Ogbaru 11 constituency, Hon Somtochukwu Udenze who defected to the ruling All Progressives Grand Alliance, APGA, which has majority in the state legislature, has emerged the speaker of the Anambra State House of Assembly.
The 8th Assembly of the state legislature is made up of 17 APGA members, seven Labour Party, LP, members, three PDP members and three seats for the Young Progressives Party (YPP).
Udeze, a three -term member, was first elected in 2015 and reelected in 2019 and 2023 under the platform of the PDP.
He dumped PDP for APGA two weeks ago after a meeting between the lawmakers and Governor Soludo during the search for a speaker and he was favoured because he is from Anambra North senatorial zone. The governor is from Anambra South, while his deputy is from Anambra Central.
The new deputy speaker is a two-term member representing Awka South 2 Constituency, Ozo Pius Nwokoye, while Ikenna Ofoneme became the majority leader.
Speaking after his election, Udeze described the 8th Assembly as one that is above party loyalty and affiliation.
According to Udeze, the lawmakers would hit the ground running immediately, adding that the tasks before them were challenging and therefore needed all hands to be on deck
He said: "Contrary to the notion in some quarters that the Assembly is established to be at loggerhead with the executive arm of government, this 8th Assembly would foster good relationship with the executive and the judiciary arms of government based on mutual respect for each other and for the growth of Anambra state.
"Granted that the 8th Assembly has four political parties represented here but irrespective of party affiliation and loyalty, we must face the task put before us by the Anambra electorate and not party loyalty"
"I will neither fail nor disappoint you my colleagues and the people of Anambra State.
Addressing the lawmakers, Governor Chukwuma Soludo urged them to see their task as one that has the same goal as that of the state executive in building a liveable and prosperous Homeland.
"This is a new partnership and new arrangement and one common goal for the 8th Assembly and we do not have 30 balls or 30 goal posts but one ball and one goal post.
"Yes we have four political parties in this 8th Assembly, but we don't have four goalposts or four balls. We have applied for governor and Assembly membership and we have been employed by our people to serve.
"We do not have four political parties in this Assembly but only one party and that is Anambra people and that is Anambra Assembly," the governor told them.