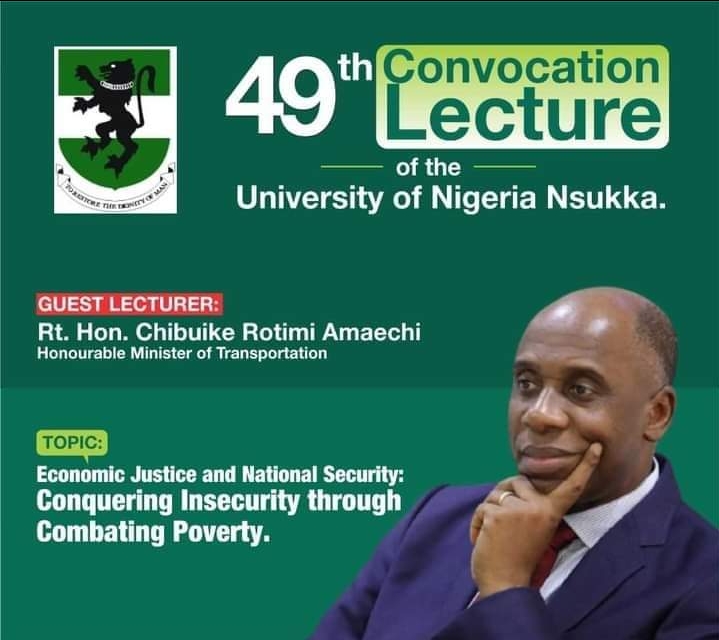 BEING THE TEXT OF A CONVOCATION LECTURE DELIVERED BY RT. HON. CHIBUIKE ROTIMI AMAECHI
MINISTER OF TRANSPORTATION,
FEDERAL REPUBLIC OF NIGERIA
AT THE GRADUATION CEREMONY OF
THE UNIVERSITY OF NIGERIA,
NSUKKA
ENUGU STATE
Saturday, 12th June , 2021
The Visitor of the UNN here represented
His Excellency the Governor of Enugu State
Members of the Federal Executive Council
Members of the National Assembly
Members of the Executive Council of Enugu State
Members of the Enugu State House of Assembly
Pro Chancellor
Mr. Vice Chancellor and Members of Senate of UNN
Members of the Academia
Graduands and their proud Parents/Guardians
Gentlemen of the Media
Fellow Nigerians
All Other Relevant Protocols Observed,
Introduction:
I am deeply honoured to have been invited to deliver this year's convocation lecture at this most renowned citadel of learning, culture and research. Mr. Vice Chancellor, I thank you specifically for deeming it appropriate to ask me to wade through the usual dividing lines between government, town and gown to address this august gathering.
On this occasion, I am wearing many caps. I am a minister of the federal government of Nigeria, a servant of the government and people of Nigeria. I am also an avid lover of learning and knowledge, a voracious consumer of books when an overcrowded schedule makes it possible. I cannot forget that I am the product of a remarkable Nigerian university, the University of Port Harcourt. I am currently enrolled as a student of some universities where I study part time, subject to the limitations of time and convenience. If you add the on- the -job training and learning that I am currently receiving in the area of rails and railways, you can imagine how involved I am in the world of learning.
It is this combination of interests in the world of learning and knowledge that emboldened me to accept the invitation of the Vice Chancellor to share my thoughts on the subject of this lecture with this distinguished audience.
The moment of graduation holds special meaning for both the graduands and their parents. For those graduating, it is the fulfillment of a set of hopes, the completion of one leg of a race in life and the beginning of yet another lap. The world outside the university campus holds infinite possibilities and surprises. It is different from what you have on campus. It is real and sometimes shocking. But it holds the invaluable treasure of experience without which we cannot face life.
I hope you all find it an exciting ride especially in our time and place. In a world of dwindling opportunities and immense challenges, I urge you to embrace the realities with courage and determination. Above all, you require all the creativity to convert every challenge to an opportunity.
To the parents and guardians, I congratulate you also for escorting these young ones through one of life's critical gateways. What you have given your offspring and wards is a rare privilege in a world of unequal opportunities. A university degree in every society remains a prized gift for the minority who are blessed to have the parents and guardians who can afford to give it. As you witness this ceremony, I urge you to share with fortitude the challenges that these younger ones will have to face in the years ahead.
UNN: A Place Founded on Dignity:
Because of the circumstances of its founding, the name and founding philosophy of UNN marked it out as a leading national centre of premium excellence. By its name, the University of Nigeria assumed a position of unique leadership from inception. As it were, other major Nigerian universities, including the few older ones, initially needed to define themselves to the outside world in relation to UNN. They needed to prove that they were not offshoots or branches of the University of Nigeria. The assumption then was that Nigeria had only one umbrella university with multiple branches!
From the onset, therefore, this university was founded on the noble ideals of nationalism, national unity and the promise of national greatness. I am made to understand that for a long time, whenever graduates of this university interacted with graduates from other first generation universities in the country, there was always a contest of superiority or primacy. While the Nsukka graduates boasted jovially that they are graduates of the only university in Nigeria while seeing the others as products of provincial or personal centres, the others would rebel and accuse the Nsukka graduates of undue arrogance and an appropriating mentality.
Let me register my protest as one of those who rebel against the tyranny and arrogance of pioneer universities like the University of Nigeria. I am a proud product of a third generation Nigerian university, a very innovative and adventurous centre of learning and cutting edge research in the humanities, social sciences and oil related studies. I am a product of the University of Port Harcourt where I took my first degree in Literature in English. I have constantly held my own as someone who received first rate humanities education under some of the finest literary and humanities scholars that our nation has produced. In fact, one value of the type of humanities education I received prepared me for the various roles I have had to play in public life. It is a multidisciplinary exposure which prepared one to be an all rounder equipped to solve social problems in a balanced way. So, I am not one of those likely to be drowned or intimidated by the pioneering status or the overbearing and presumptive nomenclature of the University of Nigeria.
Now that we have a whole gamut of federal, state, private, specialized and purely commercial universities on an industrial scale, I assume that the ego wars must have died down. The University of Nigeria and its graduates can happily take their front row seat and bask in their pioneering status. Nsukka graduates can justifiably celebrate the dignity and tradition that age confers on universities if nothing else. But in a competitive world in which the frontiers of learning continue to expand exponentially, no institution can relax in its past glory. Innovation and rapid technological advancement make institutional complacency a luxury.
A Matter of Dignity:
In the ranking of universities, tradition counts for a great deal. The tradition of any university is usually the consolidation of its founding philosophy into a guiding inspiration and enabling mantra. This is what guides the university's research, teaching and general academic direction over time. Successive generations of staff and students come to imbibe this tradition in their interactions and academic endeavours. It becomes the driving force of their pride in the institution through which they pass. Thus, Harvard, Yale, MIT, Oxford and Cambridge are not just fancy names. They are traditions rooted in history and founding philosophies.
The Great Zik of Africa who founded this university was not a man to be lost in the quest for tradition and enabling philosophy. His love for knowledge and tradition knew no bounds. Therefore, from the onset, he powered this institution with an enabling philosophy which is embodied in its moto. It simply states that the overriding objective of this institution shall be: 'To Restore the Dignity of Man". Set against the nationalist struggle against colonialism and its informing racism, this was a heavy mandate for a university. But Dr. Azikiwe was first and foremost a man of infinite love for learning. In his generation, time and place in African history, knowledge and education were perhaps the most important means of validating the dignity and humanity of the black man. The black man (and woman!) owed it to his race and to humanity to prove beyond reasonable doubt that he had the ability to acquire the highest level of knowledge possible.
Zik was confident that beyond emancipating himself from slavery and colonialism, the black man had a valid civilization and a worthy contribution to make to the march of human civilization. No where else would the impact of such contribution be felt than in the world of learning and the pursuit of knowledge through cutting edge teaching and research. That single attribute was all that was required to disprove the supremacist assumptions of racism and colonialism. From inception therefore, the great Zik of Africa endowed this university with a civilizing and liberationist ideology and mission.
As it were, the acquisition of western education and learning in all disciplines and the pursuit of excellence for the African mind were the pre-requisites for the restoration of the dignity of the African man which centuries of slave trade, colonialism and imperialism had denigrated. That, in my understanding, is one of the reasons why we are gathered here today.
Changing Challenges to Human Dignity:
For me and for the purpose of this lecture, the operative word is 'dignity'. The dignity of man (and woman) would be the sum total of all that makes us human as distinct from beasts. The dignity of man can be degraded by so many factors beyond the classic categories of racism, colonialism, deliberate denigration and enslavement.
It is now centuries since the formal end of the slave trade. It has also been decades since the last African colonies secured political independence to become sovereign nations. It is true that we still have the vestiges of imperialism and economic dependence as burdens in today's world. Racism is still alive and well. Black people and the rest of the world still have cause to mount worldwide protests that proclaim: BLACK LIVES MATTER. That cry is a defiant reassertion of a dignity that still continues to be trodden upon.
Increasingly, however, even the most avid racists are now a bit reluctant to display their prejudices openly. In fact, after the official police lynching of George Floyd in the streets of Minneapolis and in the era of "Black Lives Matter", it has become fashionable for known racist individuals and corporations to make a show of 'not' being racist! Product labels have been hurriedly changed. Huge corporations have begun to review their racial quotas for employment and career advancement. That is some progress on the matter of restoring the dignity of the black man at least.
Interestingly, the world has come to the rude awakening that every act of indignity against black people is a further degradation of the dignity of the racists themselves. Racism is no longer just a blithe on those discriminated against but more a devaluation of the dignity and humanity of the racist as well. The wheel has come full cycle. This is why every major sporting tournament in the world is now preceded by the symbolic taking of the knee to show our common solidarity in the campaign against racism and all forms of discrimination. That is how far humanity has come on the matter of human dignity. There are still many treacherous rivers to cross.
The Faces of Indignity:
We now live in a world where a variety of factors have arisen that constantly reduce the dignity of our common humanity. The tribe of humanity that is in desperate want of dignity in one way or the other now traverses national, continental, racial, ethnic and geographical boundaries. Among the factors that today afflict our dignity as humans, we can now count poverty, inequality, wars and their ravages, Climate change, environmental degradation, the digital divide, diseases, pandemics and access to medical care, poor governance, terrorism and general insecurity. Man caught in any of these catastrophes can easily lose his dignity. So, we are in a time and place where human dignity s constantly assaulted from every direction. The battle to restore the dignity of man is now universal.
Wherever any of these afflictions confront humanity, the dignity of man is degraded. I am prepared to argue that those who are not sure where the next meal will come from have no dignity left. Similarly, that army of humanity that has been reduced to canon fodder by the contest of power among nations and factions of power have no dignity left. Those who blow up their fellow humans and those who are blown up in terrorist upheaval have neither humanity nor dignity.
India may be a front line technological nation but its recent experience of massive Covid-19 infections degraded the humanity of the Indian person to the extent that literally every open space became a crematorium for disposing of the remains of victims that were dying on an industrial scale. In Yemen and the Tigray region of Ethiopia, the ravages of war have reduced humanity to the helpless level of bestial existence. In the United States at the height of the Covid ravages in places like New York, the morgues were full and refrigerated trucks became emergency morgues holding thousands of corpses of those who could not be buried by frightened relations and family.
In the Sahel region of Africa, a desperate climate change challenge has reduced millions of humanity to scraggy existence in a hostile desert environment to live undignified lives. In Nigeria's insecure villages and towns, we are witnessing the dignity of womanhood defiled and assaulted by unwashed casual rapists and agents of violence. The examples of loss of dignity by the forces of present day challenge can be multiplied indefinitely.
The Challenge of Global Inequality:
In today's world, one of the greatest challenges that cuts across all national barriers is that of mass poverty and the corresponding inequality. Even within the international community, we are all witnesses to the increasing inequality among nations. While the few developed economies and nations of the East and West can afford most of the indices of decent living for the majority of their citizens, majority of the nations of the world especially in Africa are saddled with economies that cannot survive without piles of debt and polities that cannot exist without aid.
But I am constrained by my topic to dwell on poverty and the concomitant inequality and how both of them constitute the most dire and urgent challenge to the dignity of man in Africa especially Nigeria.
In recent years, Nigeria has become the home of one of the largest populations of poor people in the world. In recent parlance, some have referred to Nigeria as the new "poverty capital of the world". With an estimated poor population of over 100 million people, our national poverty rate is 50% of the total population and still growing.
This is not exactly a flattering statistic. The causes are many and varied but all come down to a mismatch between resources and demographic trends. No one can deny the serial lack of management of our resources by successive administrations. Equally, to be blamed is our continuing over dependence on oil rents and royalties as the mainstay of our economic survival.
Consequently, the resource base of the federal government has continued to come under increasing severe pressure with the attendant devaluation in extent and quality of basic social services and the major indices of human development. The population of the country has grown exponentially from 55.98 million in 1970 to over 201 million in 2019 and about 210 million today. Similarly, our per capita per head has grown from $224 in 1970 to $2,149 today but the purchasing power of the current higher figure is less than what the smaller figure could buy in 1970. Only an average of 20% of Nigeria's 1970 population could be regarded as poor while over 50% to 60% of today's population is poor. Poverty today is defined by the World Bank and other multi lateral financial institutions as people living on less than $2 a day.
With a very young population, Nigerians aged under 45 constitute an estimated 38% of the total population. Since 1970, Nigeria has continued to depend on oil and gas royalties for 95% of its foreign exchange revenue. With a very low level of foreign direct investment inflow and a declining manufacturing capacity in recent years, the economy has been unable to generate employment at a rate to cope with the demographic increase and the pace of production of skilled manpower and educated people especially the teeming youth population.
A youth bulge has resulted in stratospheric unemployment figures while secondary and tertiary institutions have increased exponentially and continue to spew out unemployed youth onto the streets of decaying urban centres.
Inequality has produced an anarchic population as life has become a scramble and a hustle among the many. Poverty induced criminality has sent crime statistics through the roof nationwide resulting in the culture of perennial insecurity that now haunts the nation. A resource poor treasury has led to considerable decay in the capacity of the state to equip the armed and security forces adequately to contain an upsurge in crime and militant nationalism and regionalism. Our hospitals and healthcare delivery system is in desperate disrepair just as our public infrastructure has continued to decay by the years.
Given this multi dimensional decline in the revenue capacity of the state, there is no wonder we have such a heavy burden of poverty and inequality to contend with.
Tackling Poverty and Inequality:
The prevalence of poverty has been recognized as one of the greatest threats to our national unity and national security. In my mind, I see the poverty burden as the greatest threat to the restoration of the dignity of the Nigerian person. Poverty has become a leveler and a unifier even in a time of political and ethnic fundamentalism and divisiveness. Come to think of it, there is no discrimination between the poor man or woman in Maiduguri and the one in Port Harcourt; between the poor woman in Yenagoa and their opposite number in Sokoto. They all speak the same dialect of the Nigerian language. They are hungry, homeless and sometimes hopeless.
I have repeatedly said that poverty is an issue about which I do not need to be lectured by anyone. I grew up in the inner city of Diobu in Port Harcourt. I know about a crowded home with a whole family living in a modest apartment. I know the pangs of hunger when the little available has to be shared among many siblings. I know the uncertainty of a future where school fees may not be paid on time. I know of the misery of a Christmas that could pass without new clothes or gifts from parents not because they love you any less.
I have a personal conviction that of all the challenges facing our nation's actualization, none is more urgent than the scourge of increasing poverty and the threat of massive inequality. Nigeria must attack and conquer extreme poverty and inequality or the poor will overrun the rest of Nigeria.
Let us take the threat of mass poverty seriously and elevate inequality to the status of a perennial national emergency in the years ahead. Nearly all the troubles that confront us as a nation can be traced to either direct poverty or the fear that the ogre of poverty could rise one day to devour the fortunes of the rich and prosperous.
Perhaps the reduction of desperate poverty should be the first step in fostering genuine national unity in the years ahead. Only then will most Nigerians speak the same language and understand each other better. Left alone in their present poor and hopeless state, people will tear each other apart and feed on each other's entrails in an endless war over nothing in particular.
Yet, let us not allow politics and partisan power play blind us to the origins and causes of our poverty travail. For the avoidance of doubt, let me state that the desperate poverty that we have today has its roots in dispensations that came before the Buhari administration. Specifically, our epidemic of mass poverty dates back to the return of civil rule in our country. It is unfair to heap the responsibility for the prevalence of poverty and inequality on this or any one administration in the history of the country.
The Buhari administration has correctly identified increasing poverty and inequality as one of the major impediments to national development. The President has committed himself and the administration to migrating at least 10 million Nigerians from abject poverty in the shortest possible time. I believe that the various ongoing social welfare schemes of the administration will ensure the achievement of this objective and that successor administrations will take on the mantle of poverty reduction as a cardinal objective of state policy.
As we speak, the Buhari administration has embarked on a cocktail of measures targeted at reducing desperate poverty among the most vulnerable segments of our populace. These include the various Direct Cash Transfer Schemes, micro credit Trader Money, the School Feeding Programme, the Small to Media Enterprises credit scheme, the various Agricultural Credit Schemes and Anchor Borrowers Schemes. It is hoped that these schemes will over time converge to reduce the magnitude and demographics of the poor in our midst.
Previous government efforts have also contributed significantly in reducing poverty over the years. These include the Community Banks,
Rural Banking and Rural Branch Network, Directorate of Employment,,NERFUND, Directorate for Roads and Rural Infrastructure. Mass Transit Programme, Keke NAPEP Programme etc.
In spite of some of these bold schemes, however, the burden of poverty in Nigeria continues to weigh heavily on the nation. It is either that these schemes are not well thought out or the magnitude of resources committed to them is too meager to make any significant impact.
Global Perspectives:
For the avoidance of doubt, I need to point out that Nigeria is not alone in being confronted by the burden of poverty and inequality. Other nations have confronted the problem with remarkable results that should inspire us. Let me therefore point out the strides which three countries in identical circumstances as Nigeria have made in the battle against poverty in recent years: China, India and Brazil. I single out these countries because until recently, they were in identical socio economic circumstances as Nigeria. They all used to be Third World countries with huge poor populations and struggling economies.
China:
The achievement of the Chinese in poverty reduction has been equated with a modern day miracle. According to the World Bank, a total of 850 million people have been lifted out of poverty in China in the last 20 years. The poverty rate fell from 88% in 1981 to 0.7% in 2015. This is poverty as measured by the percentage of people living on $1.90 or less per day by 2011 purchasing power parity terms. This translates into an average poverty reduction rate of 42 million people per annum. In total, the Chinese have reduced their poverty rate by over 60% of the population in 20 years.
The achievement corresponded with a period of sustained economic growth. It adopted the strategy of focusing on the poorest people in the rural areas. It massively moved them from poor homes in the countryside to apartment blocks in urban areas. This is similar to the strategy adopted by the late Lee Kuan Yew, Prime Minister of Singapore, in tackling poverty among the slum dwellers of Singapore. This led to rapid urban renewal and the uplifting of the standards of hygiene and living among the former slum dwellers with a corresponding economic empowerment. They could now leverage the market value of their new apartment homes to raise capital for their enterprises and improvement of their living standards. By last year, the poverty rate among the Chinese had further declined to near zero.
The Chinese achieved this feat through a combination of measures and factors. The adoption of a market economy and increased economic activity have been key factors. This was joined by an increase in the banked population as well as improvements in the stock market and an astronomical growth in foreign investments in the Chinese economy.
Gigantic strides in technology especially Information Technology has energized this humongous population into a unified manufacturing hub and common market with its eyes set on the rest of the world. This is how an economic behemoth and the world's second strongest economy was born. Therefore the kind of inequality that threatens national security and threatens the very existence of the nation does not exist in today's China.
India:
According to UN reports, in 10 years (2006-2016) , India has lifted a record 273 million of its population out of poverty. This has been achieved through a series of rural development programmes targeted at poverty alleviation in the rural areas as a priority. By targeting the rural areas, the Indian strategy resembles the Chinese one in general but is distinct in being based on specific programmes. There are four basic schemes in the Indian mode.
First, there is the Rural Livelihood Mission(NRLM) which
guarantees the rural poor access to finance to increase household incomes, entitlement to rights, increased access to participation in the national economy through participating in banking and insurance services. It also incorporates participation in micro credit schemes for rural based small ventures.
Secondly, there is the Mahatma Ghandhi Rural Employment Guarantee Act 2005 which is designed to guarantee the livelihood of rural people. It is an employment guarantee scheme that assures individuals of a minimum of 100 days minimum wage employment. It is extended to rural families whose adult male members volunteer to do unskilled work in return for the guaranteed wage. It is an employment guarantee scheme tailored to ensure that the rural poor can loo forward to paid employment if need be.
Thirdly, there is the Rural Housing Guarantee Scheme designed to providing housing for all by the year 2022. It guarantees the rural poor access to permanent housing with electricity, LPG connections, pipe borne water and toilet facilities under an affordable mortgage arrangement that is both simple and affordable.
Finally, there is the Public Distribution System which aims to manage food distribution and reduce the scarcity of essential food items to rural dwellers at affordable prices. It is designed to address the problem of food insecurity in the rural areas.
This combination of policies and strategies has assured India of a modest poverty reduction rate of 13.65 million people per annum in the last twenty years. Of course India still has a huge poor population but it has laid down a framework for sustainable poverty reduction.
Brazil:
The poverty reduction strategy of Brazil is guided by a desire to improve the incomes of those at the bottom of the economic pyramid at a rate faster than those of people at the top and also faster than the rate of GDP growth. The result is that Brazil has been able in the last two decades to reduce both poverty and inequality simultaneously.
Between 2003 and 2009, 21 million people have escaped poverty. The Brazil National Institute of Applied Economic Research says that the country's Poverty Incidence Rate declined from 35.8% to 21.4% between 2001 and 2009, a period during which the country's Gini Index (which measures rate of inequality) dropped by 9%, the lowest since the 1970s.
Some major policy initiatives led to Brazil's success in this regard.
First is the Bolsa Familia (Family Scholarship) which provides family income support for families whose per capita monthly income is less than $47. In return, families must ensure that they vaccinate their children, attend routine health programmes, and ensure they keep their children in school. Compliance with these requirements is what assures people of continued participation and benefit from the programme. This has helped in uplifting health standards as well as education participation among the poorest segments of the Brazilian population. This has been complemented by radical reforms in education that aim at expanding the level of education among less privileged Brazilians.
The Road Ahead:
From the foregoing perspectives from other major countries, some facts are clear and inalienable. Government must confront inequality through conscious well thought, sustained and sustainable policies. Such policies must be informed by the realities of the Nigerian situation which I daresay remain unique and peculiar.
In summary, there are areas that we must address if we hope to overcome our frightening inequality and poverty. We must free our policies from an urban based focus. The poorest urban Nigerian is many times better off than the most well off rural Nigerian. Therefore, we need to emulate the Chinese and Indian examples in focusing on the rural majority if we must end the increasing marginalization of our rural compatriots. Our current land title and tenure systems have continued to consign our rural land owners to peasant holders of acres of farmland without commercial value. We need to reform our land title system by removing encumbrances on rural land titles so that rural farmers can use such land to access credit from the banks and credit unions.
The digital revolution in the world offers us a unique opportunity to use technology to reduce poverty and inequality. Through the Apps on our cell phones, a psychological inequality has been attacked. We should now use those very Apps to transact business between the urban and the rural domains, to transfer funds, administer credit and fire aspirations.
Conclusion:
In all of it, politics and leadership has roles well cut out. There cannot be genuine democracy in a society divided by unequal access to the good things of life. The only possibility in that horizon is anarchy which currently stares us in the face as rival mobs and their lead thugs now scramble for primacy on how to divide the country into tribal republics and personal estates. The democratic state must rise to the occasion by taking on the challenge of fighting poverty and inequality as a matter of urgent priority. The survival of the state and its very security are implicated in that necessary fight.
A poverty riddled state with unequal access to the good life is the image of the Hobbesian state of nature where man has no dignity and hope is a mirage. In that place, life is short, brutish and nasty.
Mr. Vice Chancellor, Distinguished Ladies and Gentlemen, I thank you all for the privilege of your audience.
God bless the Federal Republic of Nigeria.
Chibuike Rotimi Amaechi
June 12th, 2021.